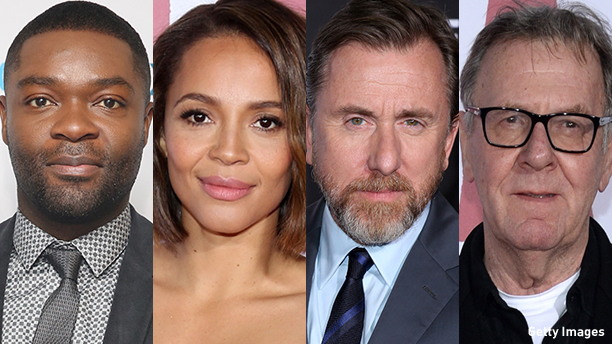 Martin Luther King Jr.'s non-violent struggle to secure voting rights is a defining moment in American history, yet in the new film Selma it is told through a cast where the key roles are all played by British actors.
King is being portrayed to great acclaim by David Oyelowo, who was raised in the U.K. and now lives in Los Angeles. King's wife Coretta is played by British actress Carmen Ejogo—and the roles of President Lyndon B. Johnson and former Alabama Governor George Wallace are portrayed by British actors Tom Wilkinson and Tim Roth, respectively.
According to Oyelowo the film's director, Ava DuVernay, didn't deliberately seek out a British cast.
"Ava will tell your herself that she wasn't looking for Brits, she just went for the best actors for the job," he says.
The actor believes it may have actually served the production to have non-American actors because they weren't that familiar with King and didn't bring any baggage with them.
"There's something to be said for the fact that we are able to come at these films clean," he said. "We just have to learn who these people are and portray them truthfully, so I think that probably was an advantage."
See more:
Watch an interview with Tom Wilkinson about playing Lyndon B. Johnson:
Tim Roth discusses playing George Wallace and the possibility of Selma having a transformative impact on audiences:
Meanwhile, Carmen Ejogo plays Coretta Scott King for the second time, the first time being in 2001's Boycott opposite future husband Jeffrey Wright as King. She talks about why she reprised the character:
More:
WATCH: 'Selma's David Oyelowo's "Secret Weapon" is "Being British"
WATCH: Brad Pitt Teaches David Oyelowo's Name in Song
David Oyelowo on Working Opposite Oprah in 'Lee Daniels' The Butler'
Read More
Filed Under: