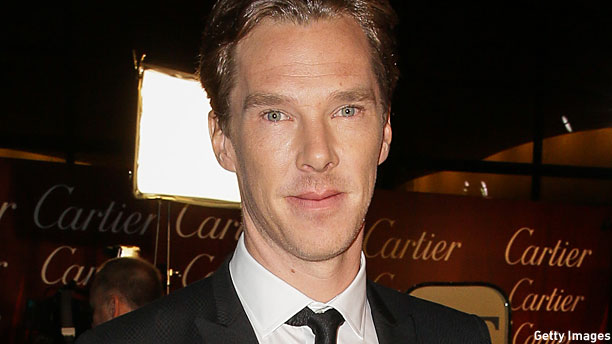 There's a rather good interview with Benedict Cumberbatch in the Wall Street Journal, which brings us up to date on his recent projects—playing Richard III in the sequel to The Hollow Crown, and researching Doctor Strange by reading a stack of old Marvel comics—and unmasks a surprisingly spiritual side to the arch-rationalist behind Sherlock.
"I meditate a lot. That's a huge tool in trying to calm myself, get away from the crazy circus of it all, have a focused mind as well as be a kinder, considerate person in the world. I took a lot of stuff away from my experience in Darjeeling, West Bengal, right at the Nepali border. It was Tibetan Buddhist monks in a converted Nepali house in India, with a view of Bhutan.
"It was a profoundly formative experience at a very young age. It's something I've tried to keep in my life. It features already."
His strongest urge is to try and put a little bubble around himself that is not concerned with matters of fame and showbusiness, an area in which it's possible to be unhampered by the outside world, to avoid scrutiny and intrusion:
"I think it's very important to do that, to remain true to your nature. Just to be able to have some space that is your own. The more you work, you're in the public focus, but that's obviously what our work's about in a generalized way. We need an audience as actors, doing this kind of art. It sometimes negates the very means by which you can then do your art… So I guess then you just have to make sure you preserve yourself."
Thankfully, he's got some assistance with that last one:
"I've got things that are more important for me going on now in my life. I'm sitting next to one of them right now, my fiancée [Sophie Hunter] – she's a helpful tool [laughs]. I said that to make her laugh. She's a helpful asset! She's a lot more than that. But it's brilliant to have something that I think is more important than myself in my life to focus away from myself, you know what I mean? That brings me into a good space."
OK, so he talks like a returning gap year student fresh from hacky-sack practise, but it's still cute.
Read the whole thing at the Wall Street Journal.
See more:
Internet Very Excited by Fan Picture of Benedict as 'Doctor Strange'
WATCH: Why Is Benedict Snogging Reese Witherspoon?
Benedict Hails the Unsung Heroes of British Film
Benedict Cumberbatch is (Sort of) Related to Alan Turing
Read More
Filed Under: