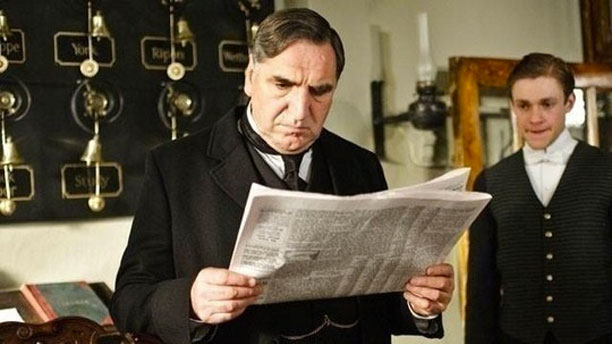 Viewers are worried about Downton Abbey coming to an end in response to creator Julian Fellowes starting a new project for NBC called The Gilded Age in 2015. The project was confirmed at the Television Critics Association tour earlier this month.
Executive producer Gareth Naeme jokingly told Variety if he had a dollar for every time this comes up … well, he would have a lot of dollars. He didn't give an exact amount, but it sounds like this is a daily topic, and he'd rather focus on the now.
Naeme doesn't have any grand sweeping plans, telling the industry paper, "We plan the show from year to year, and right now I just want the cameras rolling next month."
The fifth season of Downton Abbey is currently airing on PBS stateside, with Naeme and his team gearing up for the sixth.
Naeme talked about his timeline, saying, "We are entirely focused on season six right now and getting scripts ready for production in a couple of weeks."
Viewers are getting nervous because Fellowes has said in earlier interviews that he wouldn't be able to run two shows simultaneously, hence the nationwide nail biting.
It might work to follow Naeme's lead, enjoy the current season, look forward to the sixth, and sit tight.
Will you be prepared if Downton Abbey does come to an end?
See More:
Life After 'Downton Abbey': Where Are They Now?
'Downton Abbey' Set is a PDA-Free Zone
WATCH: The Question That Made Dan Stevens Crack Up on Live TV
Read More
Filed Under: