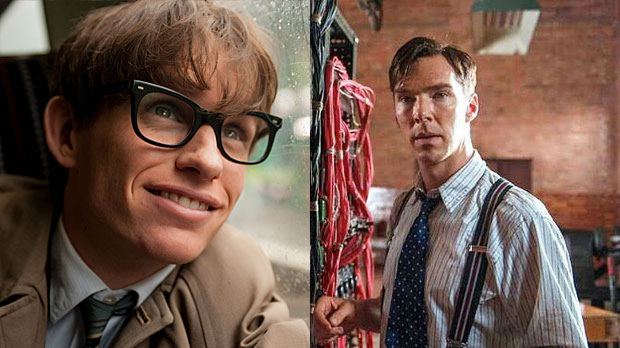 Yesterday, the nominations for this year's Academy Awards were announced and some of our favorite British talents found themselves firmly on the guestlist. And of course, this is the sort of thing that creates its own news hurricane, so quotes had to be sourced from everyone involved, as soon as possible.
So, how did our nominees react to the news, and how did they find out in the first place? Let's see…
Benedict Cumberbatch, being not only firmly aware of the kind of gentlemanly behaviour that his audience loves about him, and being naturally gentlemanly too, issued a statement in which he revealed that the big moment for him was when he got on the phone to his mum and dad: "I am knocked for six by this. So excited and honored to receive this recognition. It's wonderful to be included by the Academy in this exceptional year of performances.
"To ring my parents who are both actors and tell them that their only son has been nominated for an Oscar is one of the proudest moments of my life."
His The Imitation Game co-star Keira Knightly also issued a statement about her nomination in the supporting actress category:
"What an exciting morning! I'm so honoured and grateful for this nomination and to be in the company of such talented and inspiring actresses.
"Thank you to the Academy for this recognition and also for honouring so many of the film's storytellers. I would like to think the many recognitions the Academy has given our movie is a celebration of Alan Turing's legacy."
Meanwhile, Eddie Redmayne was having a slightly more lively time of it, having been woken up with the good news. He told USA Today:
"I'm in bed! 20 minutes ago I was in a deep, dark sleep, and there was this gigantic knock on the door. I stumbled in the dark and put a towel on and my manager was there brandishing a telephone with a lot of screaming coming out of it.
"[The nomination is] like cherries being placed on top of the most beautiful cake."
When asked how his wife Hannah Bagshawe responded, he added:
"I just spoke to her now, and she said, 'Ed, how am I meant to do the tax returns today when I'm so excited?'"
Eddie's co-star Felicity Jones had this to say about her own nomination, in a press statment: "I'm overwhelmed at this incredible news. This is a huge, huge honor. My deepest gratitude to the members of the Academy. I'll look forward to celebrating this with everyone involved in The Theory of Everything. Thank you so much."
Rosamund Pike was also woken up with the news, "for the first time by someone who wasn't my baby, wanting food." She told Deadline she was pleased that her work had been recognised in keeping the unsettling Amy Dunne in Gone Girl feeling like a real person, despite everything she does: "I remember the murder bed scene with Neil Patrick Harris and I said to (director) David Fincher, 'I feel like I'm in a totally different movie. He said, 'Oh, you are.' There were sections of the film where it felt like a Rock Hudson-Doris Day picture, but I grounded Amy Dunne in a reality with a thruline from childhood to adulthood."
And finally, Dick Pope, the cinematographer for Mr. Turner whose nomination was memorably mis-quoted as "Dick Poop" during the announcements yesterday, said he's more than happy to accept the change, providing they give him the trophy at the end of it.
He told the BBC: "What did they say? Dick Poop. Well, I'm going to change my name to Dick Poop.
"I'm going to change my name to it and I think they'll be so embarrassed at the Academy, they'll give me the Oscar anyway. That would be great."
To be honest, it would be worth it just to hear Reese Witherspoon or Will Smith have to announce his name on the night.
Read more reactions to yesterday's nominations at Deadline.
See more:
WATCH: 'Mr. Turner's Mike Leigh Keeps Oscars in Perspective
Benedict Cumberbatch, Sophie Hunter Are Expecting
Love Rosamund Pike in 'Gone Girl'? Five Other Great Roles Available Online
Is Felicity Jones Prim and Proper?
Read More
Filed Under: