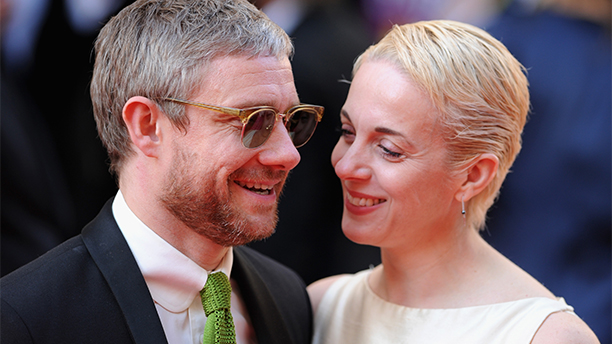 Famous parents sometimes dissuade their children from following in their footsteps, or, throw their hands up in the air, saying, "Whatever makes you happy."
Sherlock's Martin Freeman and Amanda Abbington's young daughter Grace has her sights set on following in her mum's footsteps, and aspires to grow up to be … Mary Watson.
Not just an actress, but the role Abbington plays on Sherlock.
It's sweet that she looks up to her mother, but Abbington was turned off a bit considering Watson's job description, telling the RadioTimes, "Grace wants to be Mary when she grows up. I said, 'No, you can't really be an assassin …'"
Freeman and Abbington have two children, Grace and Joe, with Abbington describing the family dynamic, saying, "They've been on a film set or at a theater since day dot, so they think parents who go to an office are really weird."
Yes, that must be odd.
What do you think of young Grace's career of choice?
See More: 
WATCH: Host Martin Freeman Gets His Dance On in 'Saturday Night Live' Teaser
WATCH: Martin Freeman in 'The Office: Middle Earth' on SNL
Amanda Abbington: "I Really Had To Up My Game For 'Sherlock'"
Read More
Filed Under: