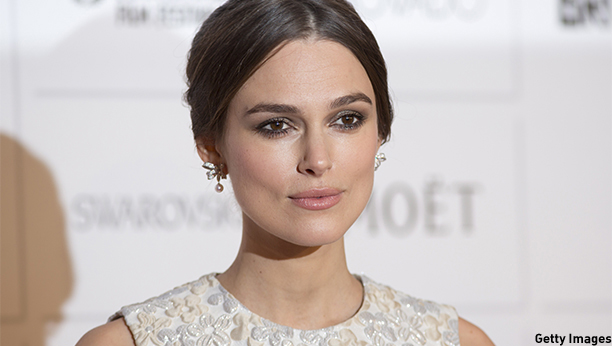 Keira Knightley is a regular on the Anglophenia blog, and whenever her name pops up, it's best practice to double, even triple, check the spelling before publishing, because that sneaky spell check may go ahead and "fix" it.
Typically, in both American and British spelling, the rule is "I comes before E unless followed by C." But, of course, there are some exceptions to the rule like with the words "eight," "protein," "glacier," and in this case, the rule goes out the window when naming babies.
Knightley talked to Elle magazine about the peculiar spelling, simply saying, "My mum's crap at spelling."
Apparently her father was keen on a figure skater by the name of "Kiera," whom he saw on the telly right around his daughter's birth, according to Knightley. He and his wife agreed on the name. Knightley's mum was in charge of going to the registry and swapped the "i" and "e" by mistake.
Knightley continues the story, saying her dad wasn't too keen on the new spelling, with him exclaiming, "What the … ? You've spelt her name wrong."
It seemed like more of a hassle to go through all of the red tape to change it, and they stuck with it.
Knightley embraces her unique name, saying, "And that's me. A spelling error."
We see her name so often; it almost seems the norm now.
Did you notice that the Keira's name was spelled slightly different?

See More:
Keira Knightley is 'In the Pudding Club,' Probably
Brit Binge Watching: Five Keira Knightley Roles You Can Stream Online
So How Did Our Oscar Nominees Respond?
Read More
Filed Under: