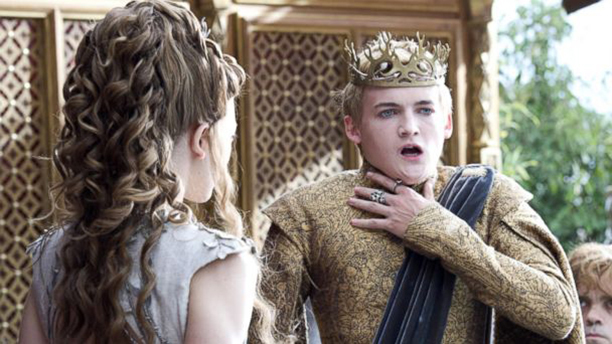 If you find yourself missing Joffrey Baratheon, or just want to re-live those last moments with the young king, you have a chance to catch up with him at the movies. HBO's Britcentric series Game of Thrones is the first TV series to be screened in the IMAX format, reports The Independent.
While we won't be sitting down for a Brit-binge, and feasting on the entire series, 150 cinemas nationwide will be showing the last two episodes of season four: "The Watchers on the Wall" and "The Children."
The real draw, the GOT season five trailer will follow the two episodes giving ticketholders an epic look.
Pamela Levine, chief marketing officer at HBO, expanded on the TV/cinema mash-up, saying, "Game of Thrones is one of the few television shows that has the scope and cinematic qualities to really support the IMAX format."
The GOT theater experience will be happening January 23-29, with tickets available in the next few days.
In addition to the screening, HBO has announced plans to make cable watching more accessible for people who aren't necessarily subscribers to the premium channel, offering a standalone web service similar to Neftlix. The launch date is expected for fall 2015.
Should we plan an Anglo field trip?
See More:
The Queen's Guard Performs 'Game of Thrones' Theme Song
WATCH: Joanna Lumley Act Out 'Game of Thrones'
WATCH: 'Sherlock's Mark Gatiss Makes His 'Game Of Thrones' Debut
Read More
Filed Under: