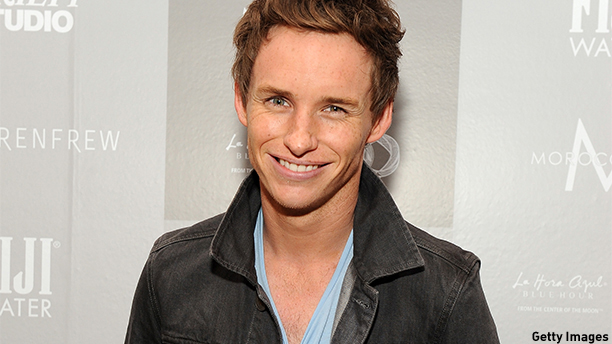 The Theory of Everything's Eddie Redmayne has topped GQ's best-dressed list of 2015. And, we're only a week into the year.
Redmayne is followed by Benedict Cumberbatch, with Jamie Dornan rounding out the third spot … woah, woah, this list is seriously Britished-up.
Okay, we need to "stop the presses," or "slow the roll," whichever term you prefer, because the mag turns out to be GQ U.K., explaining why all 50 of the men recognized are indeed British.
Now that we've gotten that sorted, let's head back to the list celebrating "the breadth of Britain's sartorial culture."
Redmayne was actually No. 27 on last year's list. The GQ panel doesn't go into detail on how the young actor made his way to the top, but panelist Andreas Löwenstam, head of design, menswear, H&M, credits Redmayne's fashion sense, saying, "Eddie's ability to get his outfits so right with a mix of modern casualwear and a tailored classic makes him a true inspiration within men's fashion."
Last year Cumberbatch found himself at No. 3, and has slid into the second spot in 2015. GQ says what we're all thinking, "From the moment we first saw Benedict Cumberbatch in his Belstaff coat as Sherlock we knew he was going to be a style icon. It's nice to be proved right."
Dornan is new to the list, not making an appearance in 2014. GQ recognizes his early days as a model, and his head-turning roles, saying, "From advertising underwear for Calvin Klein to starring in Hollywood blockbusters, the model-turned-actor always makes a splash."
Other Anglo fan favorites and well-known British personalities include Idris Elba at No. 6, Prince Charles makes a "re-entry" at No. 7, Luke Evans at No. 12, David Bowie at No. 15, Sir Elton John at No. 18, Matt Smith at No. 23, Wayne Rooney at No. 26, Billy Nighy at No. 29, Sir Roger Moore at No. 38, Mark Strong at No. 41, Aaron Taylor-Johnson at No. 44, Tom Hardy at No. 45, David Beckham at No. 46 (his son Romeo came in at No. 25), and His Royal Highness Prince George makes his debut at No. 49.
It may seem a bit premature to have a toddler on the list, but the young prince was dressed to impress with these navy knee socks in his Christmas picture.
You can see the complete list here.
You can check out Redmayne looking sharp on this week's episode of Graham Norton, here's a preview:
What is Eddie Redmayne doing different these days to skyrocket to No. 1?
See More:
E.L. James Vetoed Eddie Redmayne for '50 Shades of Grey'
Watch: Seth Meyers Gets Sassy with Eddie Redmayne on 'Late Night'
WATCH: 'Les Misérables' Trailer with Redmayne, Bonham Carter and Baron Cohen
Read More
Filed Under: