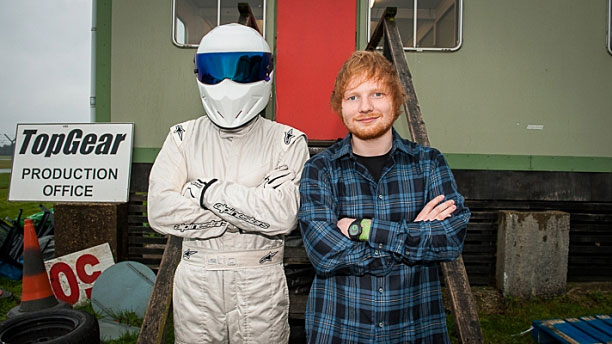 Tonight sees the return of Top Gear to BBC AMERICA (8:30pm ET) and as usual, they have put a star in their reasonably priced car. This week, the singer-songwriter-popstar Ed Sheeran has the chance to show what he can do around their twisty track, but in a startling break with tradition, Ed is the first person to take the challenge despite having never driven a car before.
In fact, having spent most of his teenage years traveling the British Isles with his guitar (by train, since you're wondering), he hadn't even tried to learn, as he explained to Jeremy Clarkson:
"Before today I hadn't even sat in the driver's seat, or touched the steering wheel."
Which may leave you wondering why he agreed to appear on Top Gear in the first place (and for the answer to that you'll have to watch tonight's show), but if you thought it was because he grew up loving Jeremy, Richard Hammond and James May, that's not the case. In fact, according to these extracts from his autobiographical book Ed Sheeran: A Visual Journey, driving isn't the only thing he's not overly familiar with.
"For years we didn't have terrestrial TV in our house. We didn't even have a TV licence because my mum didn't want us to be sat in front of the TV all the time.
"Instead, we'd watch one video a day—maybe Blackadder or Pingu—then go off and do something else, like draw, paint or play music. We didn't own a video games console and I honestly think that was one of the best things my mum never did.
"So all the time that my friends were playing Grand Theft Auto, I was sat there practicing the guitar over and over and over again. To this day, I don't know what to do on an Xbox or a PlayStation."
But does he know what to do with a car now? You'll have to watch and find out.
See more:
WATCH: Ed Sheeran and Wayne Rooney Perform 'Lego House' at Pub
Rupert Grint and Ed Sheeran: Twingers
25 Great British Songs You Should Have Heard in 2014
WATCH: 17 British Celebs Starring on 'Sesame Street'
Read More
Filed Under: