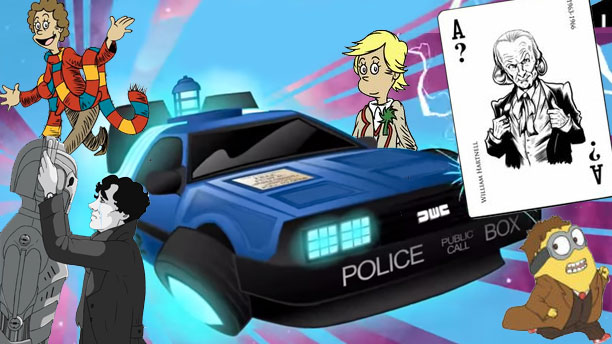 This week's Who's Day roundup is devoted to the fine art (and we mean this is most literal sense) of crossovers. Taking things from the Whoniverse and trying them out in other locations to see how they fit.
Doctor Who fans have a long tradition of wondering what would happen if, for example, the Doctor should materialize in the middle of Sherlock Holmes's sitting room, or if the TARDIS should suddenly change to resemble Snoopy's kennel, so here are some of the finest recent examples, a couple of old favorites, and the usual assorted news and information.
• For starters, Dan Slott, writer of Spider-Man and Silver Surfer for Marvel comics, has been collecting various members of the Doctor Who cast and asking them to do the web-fingers with him:
As close as I'll ever get to a #Spidey/#DoctorWho cross-over. 😉 pic.twitter.com/GNtmPF4LHJ

— Dan Slott (@DanSlott) January 19, 2015
• Geeks are Sexy has this remarkable artwork from DrFaustusAU, which reimagines the thirteen Doctors as if they were drawn by Dr. Seuss.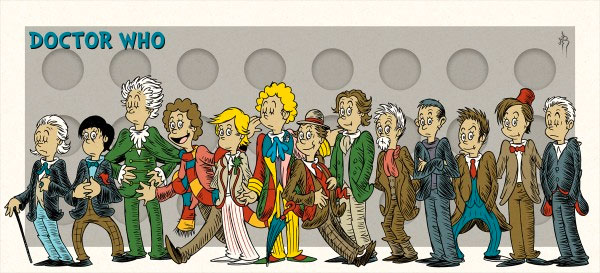 • Then there is this, Doc-spicable Me, anyone?
Quand Doctor Who rencontre les Minions pic.twitter.com/DQZGZcR6p3

— ElBlondo (@elblondo) January 19, 2015
• The latest news from the Doctor Who production team is that filming continues on Season Nine, with a two-parter written by Being Human's creator Toby Whithouse, and featuring Game of Thrones star Paul Kaye, as well as Morven Christie (Twenty Twelve), Arsher Ali (The Missing), Colin McFarlane (EastEnders) and Sophie Stone (Casualty).
Like a lot of British actors who grew up hiding from the Daleks, Paul could not be more pleased: "As a kid of the 1970s, the two shows you always watched were Top of the Pops and Doctor Who, they were unmissable.
"I actually wrote a song called 'Looking For Davros' in my first punk band and I sang it like a demented Dalek. I got to present Top of the Pops back in the mid 90s and landing this role in Doctor Who completes the dream double.
"Peter is a perfect Doctor and I'm loving every minute of the experience, even the five hours in make-up. What a treat, best 50th birthday present ever!"
• What Culture has the 21 actors who have appeared in both Doctor Who and the Harry Potter movies.
• Which reminds us of the time we made a list of similar common denominators between Doctor Who and Broadchurch.
• We did mention Sherlock earlier, right? How about this maudlin moment from Jenny Meier:
–John Watson has been upgraded– But I am the one who is supposed to be the machine. #НОЧЬШЕРЛОКА #Sherlock #wholock pic.twitter.com/Z4eGWptG3M

— cypherspeed (@king4thesirens) January 10, 2015
• A slight musical intermission now, as Syracuse University's a capella group the Otto Tunes perform the Doctor Who theme at an event called Who Class:
• Kasterborous have compiled their list of the funniest Doctor Who moments of all time (and space).
• Whereas Radio Times have done something similar, but their focus is more specific: first the Tenth Doctor, then the Eleventh, and then the Twelfth.
• Not a crossover, just a reminder that even in dreams, fruit is not an acceptable Christmas present:
A doodle of mine. Nobody likes the tangerines! #doctorwho #PeterCapaldi @DoctorWho_BBCA pic.twitter.com/mL15bUmuXH

— Sophie Cowdrey (@sophiegallifrey) January 11, 2015
• Should you wish to double check, we've updated our personality quiz "Which Companion Are You?" to include Clara Oswald. Are you the impossible girl or the boy who waited? River Song or her mum, Amy Pond? Donna, Rose or Martha? There's only one way to find out.
• Meanwhile, back in the crossover dimension, all of the Doctor's incarnations (including the Valeyard) have been reimagined as playing cards by SouthParkTaoist, with hearts, spades, clubs and diamonds being replaced by question marks, TARDISes, Sonics and Fezes:
• And then there's this, still the gold standard against which all crossovers should be measured:
And finally, we all have someone in our lives that would probably love Doctor Who, but hasn't quite got around to watching it yet. This might be a decent place to start, a whizzy fan-made trailer for the first eight seasons:
There, now we're all up to speed. TTFN!
Read More
Filed Under: