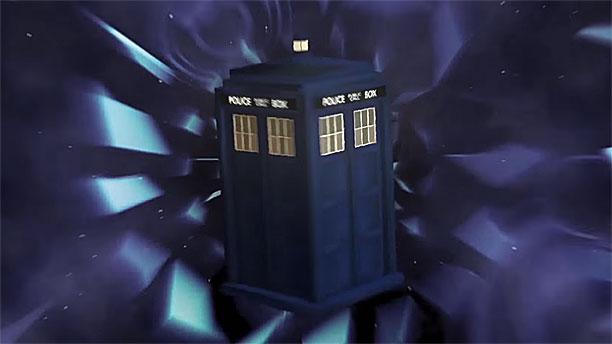 Doctor Who fans are among the most creative of communities in the world, no, the universe! That's why the current opening credits for Doctor Who are based on an idea created by a fan and uploaded to YouTube, and that's why fans continue to tweak and tinker artistically with themes and concepts inspired by the Doctor, the TARDIS, and the adventures they continue to have together.
Since the year began, notable additions have been made to the list of great fan-art opening titles all the time, and some of them are well worth a look, for a variety of reasons:
This from Whovian Comley, is an attempt to create some opening credits for Doctor Who if the show had been on during the War Doctor years:
https://www.youtube.com/watch?v=mrnZ3fPDvq8
This, courtesy of WhovianDoctor11, appears from an alternate dimension where Missy is the star of Doctor Who, and the title sequence is inspired by 1980s Doctor Who:
And this is a remix of the proper current title sequence (and theme tune too) by CloisterProductions, on a theme of breaking glass:
If you or someone you know is beavering away on something similar, do let us know.
Here's what else is going on in space and time this week:
• Did you see David Tennant adding 'lyrics' to the theme music to Broadchurch? It's not like Doctor Who:
Speaking of the Tenth Doctor:
• Game of Thrones star Paul Kaye has been confirmed as a guest in Season Nine.
• What Culture's 10 reasons why 2015 is the perfect year to get into Doctor Who.
• Doctor Who managed another reference in The Big Bang Theory, however all this talk of fezzes and bow ties and aggression will not stand:
• Titan Comics have announced a new five-part serial starring the Ninth Doctor, Rose and Captain Jack Harkness. Weapons of Past Destruction, written by Cavan Scott, sends the Doctor off on a hunt for Time Lord technology, being sold on the intergalactic black market. Expect to get your hands on the first edition on March 11.
• An interview with Jenna Coleman in Doctor Who Magazine in which she says this about Clara and the Doctor: "They are a bit addicted to each other, and to the dynamic that they share. It's getting so that one can't go without the other, and I think that's definitely what Clara's realized. In a way that's quite dangerous now, because she realizes that there is no going back for her."
• This is rather grand. Missy and her cyberchums:
• Going to (Re)Generation Who in Maryland this March? Good news, Tom Baker (the Fourth Doctor) will be joining you by Skype on the Saturday for a Q&A. That's in adddition to Colin Baker (the Sixth Doctor), Sylvester McCoy (the Seventh Doctor), Deborah Watling (who played the Second Doctor's companion Victoria), Nicola Bryant (Peri) and Sophie Henderson (nee Aldred, who played Ace).
• Karen Gillan was holding a very old rock indeed:
This is the oldest thing in the world. A piece of the meteorite that hit Arizona millions of years ago! pic.twitter.com/fvM2i2Vzis

— Karen Gillan (@karengillan) January 4, 2015
• It's not often we get to do a genuine "and finally…" news story at the end of the Who's Day Roundup, but this tale of Whovian obsession from Florida is too good to miss, concerning the appearance of a TARDIS in a backyard in Manatee County:
TTFN!
Read More
Filed Under: