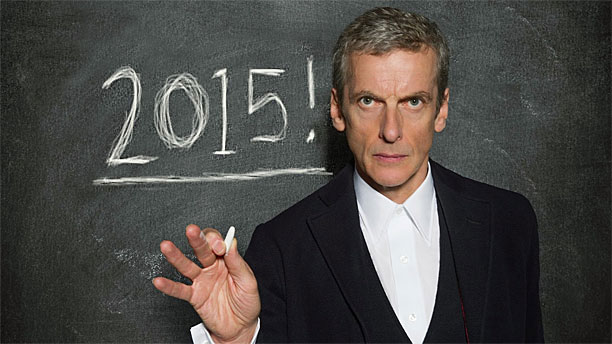 Happy Who Year!
We've had a couple of weeks to get used to the idea that Santa and the Doctor are both occasionally figments of our dreaming minds (providing there's a crustacean making a milkshake of our frontal lobes) and commence pining for the appearance of the TARDIS again. So it's time to turn our attention to the future, and the exciting news that we're about to set off for new and unknown parts of the universe once more.
That's right, as of this week principal photography has begun on Season 9 of Doctor Who in Cardiff. The Doctor is off and moving once more, and as we already know, the first story will be called "The Magician's Apprentice."
Which means 2015 is already shaping up very well, thank you very much. And in that spirit, here's Jenna Coleman explaining her New Year's resolutions to BBCAMERICA.com. Might we be seeing more activity on Jenna's Instagram in 2015?
If you're not into making resolutions, you can always take inspiration from the Twelfth Doctor. We compiled some of his best nuggets of wit and wisdom from this past season.
Here's what else is going on in space and time this week:
• Congratulations to the War Doctor, Dr Nasreen Choudry and Craig Owens—better known outside the Whoniverse as John Hurt, Meera Syal and James Corden—who were recognized in the New Year's Honours List. James has been awarded the OBE, Meera has a CBE and John receives a knighthood, the first Doctor to become Sir Doctor, you might say.
James's Gavin & Stacey co-star Sheridan Smith, who plays the Eighth Doctor's companion Lucie Miller in the Doctor Who Big Finish audio adventures, was also awarded the OBE.
• For Londoners, Doctor Who helped to bring in the New Year quite literally. Watch and listen as the Orbital version of the Doctor Who theme plays over London's fireworks at 6:22:
• Radio Times has a quiz that wants to know if you can match the Doctor Who star to the movies they've been in.
• A TARDIS bed that is literally bigger on the inside? (io9)
• Fans of classic Who are holding their sonic screwdrivers aloft in tribute to Bernard Kay, a four-time veteran of various Doctor Who adventures, who appeared alongside the First, Second and Third Doctors. Here he is being taken hostage in the Second Doctor adventure "The Faceless Ones"
• This is a work of genius:
RT @NerdApproved: This Feeder Turns Squirrels Into Cybermen #DoctorWho http://t.co/wgagmF8DUG… pic.twitter.com/VOb1ZEvwW2

— Loot Crate (@lootcrate) December 31, 2014
• Den of Geek wrote a deep appreciation of the Seventh Doctor's companion Ace; who attacked a Dalek with a baseball bat and lived to tell the tale.
• Doctor Who has been nominated in this year's National Television Awards. Should you wish to ensure a victory for our Time Lord chum, you can vote here.
• Kasterborous has a nice round-up of people who can really do the Doctor's various voices, like the startlingly accurate Jake Dudman:
And finally, here's a wonderful treat for anyone interested in the very early days of Doctor Who. In 2013, BBC Radio 4's The Reunion brought together some of the cast and crew, including Carole Ann Ford, who played the Doctor's granddaughter Susan Foreman, and Peter Purves, who played Steven Taylor. You can listen to the whole thing here, but here's a clip to tide you over:
TTFN!
Read More
Filed Under: