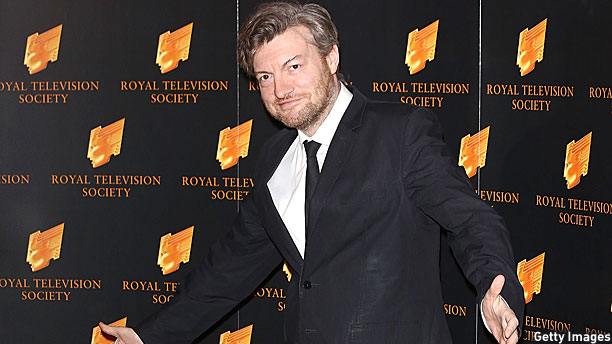 Charlie Brooker is not an optimistic man. Or at least, the Charlie Brooker that has appeared on British TV screens for the last 10 years, the one who routinely scans the modern media landscape for signs of intelligence, admits defeate and signs off with a pained "thank you for watching, now go away" is definitely not one for looking on the bright side. He's less "glass half empty" and more "this glass appears to have cut all my fingers off."
And you can see some of his uniquely disturbed world view in the hit Netflix series Black Mirror, which is a kind of heir to the throne of such TV greats as The Twilight Zone or Tales of the Unexpected. Each episode is a 45-minute stand-alone story and a refraction of modern life. The black mirror in Black Mirror is a screen, whether a TV, a smartphone, a laptop or a tablet, and the underlying thread of each story is that technology is having a distorting effect on our lives.
If you haven't seen it, here's a trailer for a recent episode, starring Jon Hamm:
And here's Charlie explaining his rationale in creating the series:
But the British know Charlie Brooker rather better as a commentator on TV, and a particularly scathing one at that. He's been the writer and presenter of a series of themed (and very funny) review shows that take TV, the news and current affairs to task in much the same way as John Stewart or John Oliver, but mostly from a set that resembles his own flat (rather than in front of a studio audience).
First there was the all-encompassing Screenwipe (which came out of Screen Burn, one of his columns for the Guardian), then the more specific Newswipe and even Gameswipe for gamers. He's best known for a particularly scabrous and unforgiving delivery, which makes finding clips a little tricky (this one is slightly NSFW, language wise):
He does appear to like the Beatles' Rock Band, however:
And this appreciation of the work of the great children's animator Oliver Postgate is just lovely:
But he's mainly known for skewering TV shows for being stupid, awful and manipulative, as he did in the 2011 documentary series/sketch show How TV Ruined Your Life:
Once you've started spoofing TV, it's a relatively short hop (provided you have the talent) to writing your own TV, such as the five-part horror series Dead Set, in which a zombie apocalypse takes place during a series of Big Brother, or 2005's superb hipster-baiting comedy Nathan Barley (which also featured a cameo appearance from a young Benedict Cumberbatch):
Or the 2012 spoof crime procedural A Touch of Cloth, starring John Hannah and Suranne Jones:
And what of the future? Well, Stephen King is a fan of Black Mirror, and there are plans afoot for a U.S. version. Robert Downey Jr. even optioned the Black Mirror story "The Entire History of You" (written by Jesse Armstrong) for his own production company, although that doesn't mean it'll necessarily go into production.
But if Hollywood comes calling, Charlie is ready, as he told the Radio Times: "I'd love to make a film ultimately. There's been quite a few episodes where we thought 'God, you could do a feature-length version of this quite easily'. 'White Bear,' '15 Million Merits' come to mind – 'Be Right Back' as well actually. There were lots of ideas we had to leave out."
See more:
WATCH: Karen Gillan Attacked by a Gorilla in 'A Touch of Cloth'
A History: Are Brits Better at Satire?
How Five Classic U.S. TV Shows Would Work If They Were Set In Britain
The Brit List: 10 Internationally Unsung UK National Treasures
Read More
Filed Under: