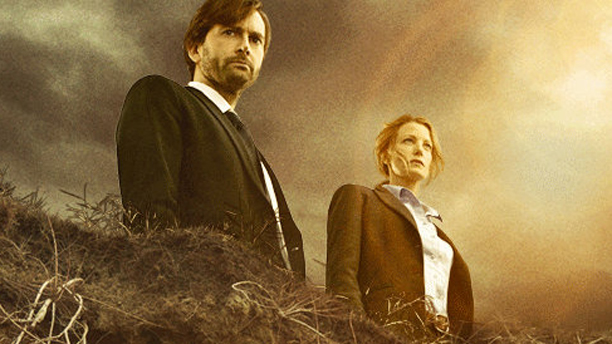 The story so far: Broadchurch is a hugely successful and gripping drama set in a small community on the south coast of England, and starring David Tennant and Olivia Colman. It caused such a stir that an American version was made—Gracepoint—also starring David Tennant, which retold the same basic story, but changing the ending.
Gracepoint proved to be slightly less popular than Broadchurch, and subsequent plans to make a Gracepoint version of Broadchurch series 2 (which has started in the U.K.) have been shelved.
But now, in a fascinating twist in the tale, David Tennant has received a People's Choice award for his heroic efforts in essentially playing the same part but with a different accent (and script).
David was voted the favorite actor in a new TV series, beating Ben Mckenzie (Gotham), Laurence Fishburne (Black-ish), Scott Bakula (NCIS) and Dylan McDermott (Stalker). Which must be a nice way to round off an interesting experiment, while everyone gets ready for the next phase of Broadchurch-based emotional turmoil.
Stay tuned for the exciting next episode in this unfolding drama, coming to BBC AMERICA on Wednesday, March 4.
See more:
'Broadchurch's David Tennant and Olivia Colman Were Keen to Return to Dorset, England
WATCH: 'Broadchurch' Season 2 Teaser, BBC AMERICA Air Date Revealed
WATCH: Third Teaser Arrives for 'Broadchurch' Season 2
FIRST LOOK: The Cast of 'Broadchurch' Season Two Report For Duty
Read More
Filed Under: