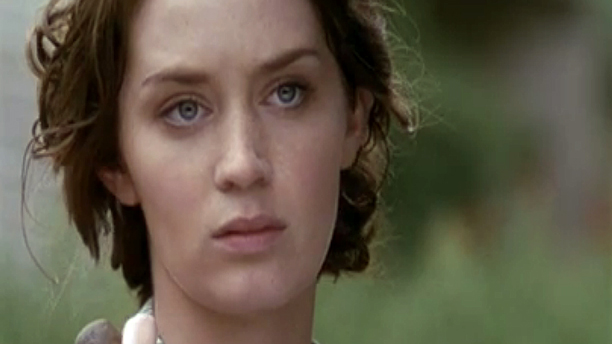 We've already seen how the wartime police drama Foyle's War gave a crucial leg-up to the careers of Rosamund Pike and David Tennant during its first season in 2002, and then-20-year-old Emily Blunt's arrival in the story "War Games" a year later was further evidence of the show's reputation for making the most of the best new talent in British TV.
Hers is a complex tale, taking in the business affairs of a corporation called Empire & European Foods and their dodgy dealings with the Third Reich. Anyone who reveals the true nature of their contractual obligations seems to find themselves hurtling towards doom.
Meanwhile, cash-strapped farmer Lucy Markham (Blunt) is attending to her bees and worrying about the future with her brother Harry, who has just come back from prison after a three-month stretch for breaking and entering. It's part of his life he's keen to leave behind, but there are always people who can make good use of his particular skills.
Adopting a less prim persona than she would go on to use in movies such as The Devil Wears Prada, The Young Victoria and The Muppets, she explained at the time that her character is someone that is struggling to keep things together in trying times: "Lucy is a real trouper, she wants and needs to see the best in everything, and she knows she will crumble under pressure unless she is positive.
"She is vulnerable and has a fear of being alone and that's why she's terrified about her brother getting into trouble. We are not too alike because I never feel lonely and have lots of friends."
And that was back in 2003, before her successes in Edge of Tomorrow, Looper and Into the Woods. Her Christmas card list must be like a phone directory by now.
Rosamund, Emily, and David aren't the only stars who have graced Foyle's War. The series has also featured Sherlock's Andrew Scott, Charles Dance (playing a character who just might be more evil than Tywin Lannister on Game of Thrones), another Doctor (Peter Capaldi), James McAvoy, Outlander's Tobias Menzies, and many others. With the final season of Foyle's War premiering on Acorn TV on February 2, perhaps we'll be seeing a few of its guest stars on the big screen in years to come?
Read More
Filed Under: