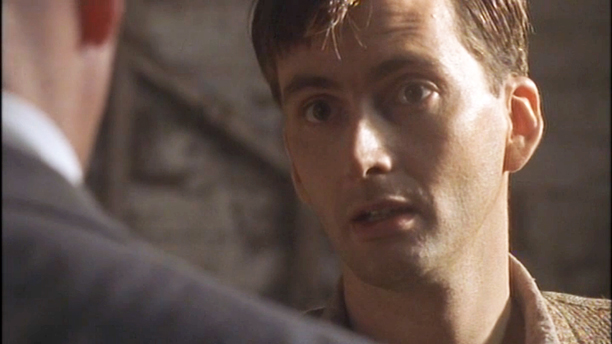 As we saw with Rosamund, Foyle's War has proven to be a great place for some of our favorite British actors to first show the world what they were capable of. Although with the story "A Lesson in Murder" in 2002, a very familiar face arrived on British screens, but not for the first time.
The story concerns a pacifist named David Beale, who has died in jail after his appeal to become a conscientious objector has been turned down by local judge Gascoigne. David's best friend Theo (David Tennant) is also a pacifist, although Theo has taken the news of David's death very hard, pledging revenge.
At the time of filming, David Tennant was a jobbing TV actor with many performances under his belt. He'd been in continuing dramas like The Bill, comedies like Rab C. Nesbitt, and comedy dramas like the remake of Randall and Hopkirk (Deceased). There are a lot of clips from this era of his career on YouTube. But the most interesting thing about his Foyle's War role, especially when watching him since his triumphs in Doctor Who, is that unmistakable English accent.
Tennant famously gave up his native Scottish brogue for an English accent when he played the Doctor, but his more recent roles have afforded him opportunities to use his natural speaking voice. Watching the fresh-faced young actor using that English accent on Foyle's War is like watching the Tenth Doctor suddenly materializing in 1940 and taking the role of a hot-headed pacifist—perhaps with less aversion to guns.
After Foyle's War, David's career began to blossom. He continued to make strong, significant appearances using both accents in TV dramas like Posh Nosh, Terri McIntyre, Blackpool and He Knew He Was Right, before taking the lead role in Russell T Davies' retelling of the stories of Casanova, shortly after which he took the pilot's position in a certain blue box, and never looked back.
Read More
Filed Under: