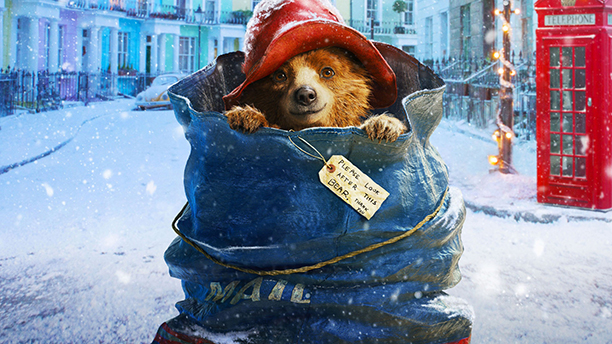 Now that Paddington the movie is finally hiting U.S. theaters, it seems a perfect moment to try and fill in some of the crucial details about the film's hero for anyone who doesn't quite understand what is going on, or why anyone should care enough to give the movie a go (apart from the fact that it's really a very good movie indeed).
So, consider this a kind of Brody's notes roundup, hopefully with enough detail to convert anyone—expert or novice—to the cause of helping to look after this bear. Thank you.
1. He's a real teddy bear.
Michael Bond, creator of Paddington and writer of 70 books, which have been translated into 30 languages, found a teddy bear on the shelf of a shop near Paddington station on Christmas Eve, 1956. He brought it home as a Christmas present for his wife, but started thinking about where such a bear may have come from, what sort of a character it may have had, and what it might be called if adopted by a friendly family.
Somehow he was reminded of the children evacuated from London during the war, who passed through Paddington on their various journeys to the West Country and had labels to identify themselves. 10 days later, he had completed a manuscript of short stories called A Bear Called Paddington.
2. He's not like other bears.
Imagine being a British author attempting to create a new story based on a toy teddy bear in the mid 1950s, and knowing full well that Winnie the Pooh has comprehensively beaten you to all of the cutest and most philosophical teddy bear one-liners. You'd have to work pretty hard to create some space between your bear and A. A. Milne's, and that's exactly what Michael Bond did.
So, rather than living in a wood with other toy animals, Paddington came from darkest Peru (not just Peru, mind you, one of the dark parts). Instead of the naturally-occurring honey, he loves marmalade sandwiches—a sign of civilization—one of which he keeps under his hat for emergencies. Oh, and he wears a hat. And a duffle coat (because London is cold compared to Peru). And he has a suitcase with a secret compartment, like James Bond.
And while intensely polite at all times, he reserves a special Very Hard Stare for anyone who has earned his displeasure, while making a colossal hash of everything he attempts to do, and somehow still earning his place in the Brown household.
That's the kind of complexity of character you need to escape Winnie the Pooh's shadow.
3. There are no bears like Paddington in Peru either.
Yesyesyes we know bears can't really talk and so there are no bears like Paddington anywhere, but still…
Originally Michael Bond had wanted his bear to come from darkest Africa (a common, but old-fashioned term for the jungles of the Congo) but found out that there are no bears there at all, so he changed it to Peru. There is one bear that is native to the Peruvian jungles, and that's the spectacled bear, like this fellow:
However Paddington, while having the perfect demeanor to wear glasses, is always rendered as a more of a brown bear.
4. There is no 32 Windsor Gardens.
The Brown family reside in 32 Windsor Gardens, which is a real road, not far from Westbourne Park tube station in West London. However, there is no house of that number, as Windsor Gardens is filled with council flats. Michael Bond had chosen the street name because it combined his parents' address—Winser Drive in Reading—with his own in Arundel Gardens.
5. Jeremy Clarkson's parents put him in wellies.
We've mention this before, but it (drumroll) bears repeating (TISH!). In the original books, Paddington does not wear wellington boots, nor does he wear them in the TV animation or in the movie. However, when making toy Paddington bears in the early '70s for their company Gabrielle Designs, Shirley and Eddie Clarkson (who had a pre-teen son called Jeremy who later went on to present Top Gear) were struggling to keep their fluffy creations from falling over.
So they bought tons of children's wellington boots to put their bears in, and to this day if you buy a Paddington bear—there's a bear outlet in Paddington station—it'll probably be standing in wellies.
See more:
LISTEN: Hugh Bonneville Reads a Letter from Paddington
Peter Capaldi Designs 'Doctor Who' Paddington Statue
Colin Firth: "Paddington Simply Doesn't Have My Voice"
The Brits and Cross-Dressing: A History
Read More
Filed Under: