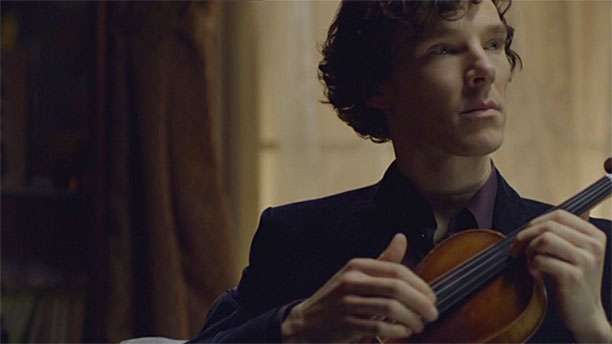 David Arnold and Michael Price's theme music for the BBC's Sherlock is one of the most recognizable and classy themes in British TV history. It has bits of old spy music in there—not least John Barry's work on the theme for The Ipcress File—and a bittersweet romantic sweep that lifts emotions and gives them a good shake before the adventures of Holmes and Watson have even started.
And because of this, it's been taken by the musicians of YouTube as the kind of tune they want to have a muck about with, to see what fresh shades can be found underneath the glittering exterior. Unfamiliar instruments abound, as do familiar ones that have been pressed into service in interesting ways.
Here are just five examples:
The Classical Guitar Version
There are many hugely talented guitarists putting up versions of Sherlock up on YouTube, but not everyone has taken the time to put the music back into the context of the drama, like David Weese and Derek Sena have here. And besides, that many-stringed guitar with the cello spike (it's called a Brahms guitar, having been developed by the guitarist Paul Galbraith specifically to play Brahms' music on) is an interesting innovation.
The Carillon Version
Put simply, a carillon is like a piano made of bells. Not little hand-bell bells either, some carillons can take up an entire belfry. But rather than spending all your time yanking on ropes, these bells can be played by depressing levers. Here's YouTuber Kat Lin's carillon teacher and a friend taking the chiming hammered dulcimers of the original theme to the next level of chimeyness.
The Sherlock/Merlin Crossover Version
It's not all about weird instruments; sometimes playing a familiar tune using the arrangement of another familiar tune gives a fascinating glimpse into unexplored territories. There's no reason why the Sherlock theme should not have been arranged with choirs, trumpets and battle drums like the theme to Merlin—as kevinhas99tunes has arranged it here—but it's probably no bad thing that it wasn't.
The Indian Version
Imagine the kind of TV show that would have to follow music like this; a delicate arrangement by Tushar Lall (he's the one playing the Michael Nyman-style piano) for flute (Prathamesh Salunke) and tabla/percussion (Samay Lalwani). This version even reached the ear of Mark Gatiss and Michael Price, who were happy to tweet their support. Michael even referred to it as being "outrageously great," which is only right and proper.
The Trombone Band Version
The brass band is one of the great musical joys of the British Isles, but it's possible to convey a good portion of that delight using just one trombone five times, if you're skilled with the music editing software (and the trombone, naturally). Here's the aptly named TromboneParadise giving it maximum oompah.
What's that? You just can't get enough and you want an encore? Oh alright then!
Here's a more Spanish-style guitar version, courtesy of Sylvain Dumont, which gives the whole thing a fantastically Third Man sort of feel, despite the absence of bouzoukis.
And with that, it's time to go on the hunt for more Sherlock wonder, as played on balalaikas, crumhorns and the Turkish saz.
UPDATE: Since publishing, we've been alerted (thanks, @anna_mc) to this creepy home-made musical box version by David Youd:
Which brings our running total up to 7/5, an appropriately exceptional standard.
See more:
Whatever This 'Sherlock' Picture Means, We're In
WATCH: Robotic Orchestra Plays 'Doctor Who' Theme
The Queen's Guard Performs 'Game of Thrones' Theme Song
Five 'Doctor Who'-Themed Pop Singles You Must Hear
Read More
Filed Under: