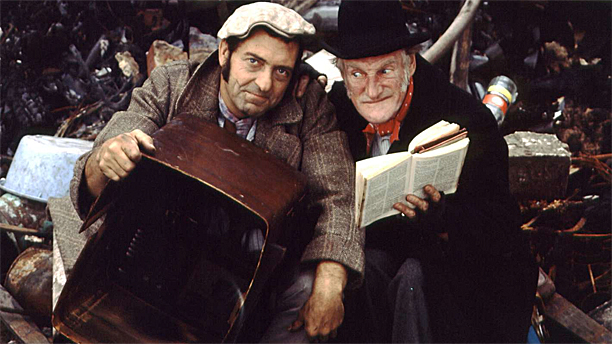 Back in November, the Anglophenia video channel pulled together a comprehensive list of all of the American TV shows that were given a dusting down and a glittering up for an American audience. Some were huge hit shows on both sides of the Atlantic, but featured a cast list that would've been unrecognizable to fans from either country.
And it's a process that is still ongoing. Gracepoint was the U.S. re-swizzling of Broadchurch, and there's a new NBC version of The I.T. Crowd on the way, one that will apparently learn from the mistakes of the last American attempt to recreate Graham Linehan's nerdy comedy (the biggest of which was to recreate it far too faithfully). This time, they will try and make a more uniquely American proposition, developing its own character and sense of itself, with help from Graham himself.
So, here are a handful (and an extra finger) of examples of the kind of fully reimagined American sitcoms based on British originals, of a sort that the producers of The I.T. Crowd would do well to try and emulate:
Sanford and Son (based on Steptoe and Son)
British sitcoms always seem to be a little more grotty than their American counterparts, whether that's in the grubbiness of the scenery or willingness of the cast to drop picked onions in their own bathtub or even bathe in the sink. The key line from Steptoe and Son is Harold Steptoe's outraged "you dirty old man" to his grubby (in every sense of the word) father. But they both appear to live in a rubbish dump and struggle to keep clean.
Meanwhile, Fred Sanford, while no further up the social ladder than the Steptoes, is more of a schemer, and runs a junk store, and is a bigot in the Archie Bunker/Alf Garnett vein. While he is still an old man who has trapped his son in the family business using guilt as his principal weapon, he is physically far less frail than the elder Steptoe, despite often pretending to have a heart attack in order to get his own way. In any case, fathers and sons that can't live together or apart; that's the secret of comedy.
All in the Family (based on Till Death Us Do Part)
Till Death Us Do Part and its sequel In Sickness & In Health are hard to talk about in the modern era even with the advent of sweary anti-heroes like The Thick of It's Malcolm Tucker. Ostensibly a satire of working class bigotry, the attitudes and ideas expressed by Alf Garnett—as played with spittle-flecked glee by Warren Mitchell—are simply too strong, too inflammatory (and riddled with words that are far too offensive) for modern TV sensibilities. That doesn't mean either show was or is racist, sexist or homophobic themselves, but Alf certainly was. And so was his American counterpart Archie Bunker.
Three's Company (based on Man About The House)
Man About The House has to be the most fertile comedic idea in TV history, and it's just the story of a man lodging with two attractive girls. I know, right? It's crazy!? From this relatively unpromising start came a hit British comedy, a hit American comedy, a spin-off hit British comedy called Robin's Nest, which also had a U.S. equivalent, Three's A Crowd. And then a second U.K. spin-off, focusing on the original series's nosy neighbors George and Mildred, which, in turn became The Ropers.
Can you imagine how many shows they'd have got out of TWO guys living with two girls?
(*series of incredulous faces to milk studio audience laughter*).
The Office (originally The Office)
So there's this documentary crew making a TV show in an ordinary office, right, and their presence seems to be bringing out the worst in some of the people that work there, not least from the company's general manager, who suddenly seems to believe this is his shot at stardom. There's an extra layer of self-awareness that comes from the knowledge that Ricky Gervais actually did get his shot at stardom from playing David Brent, so he's mocking Brent's delusion that he is a comedian/musician while indulging in that very fantasy himself. The American version may lose a little of that small-town desperation, but otherwise the tone is eerily universal, and has become a part of the grammar of TV comedy, most notably in shows like Parks and Recreation or Modern Family.
Veep (based on The Thick of It)
Veep takes the mockumentary tone of The Office and puts it in a place that no cameras would ever normally be found. So we see just how easily the best intentions of people in high office can be thwarted by minor idiocies in front of a voracious media, sharp-eyed enemies and big-elbowed competitors. The same is true of Armando Iannucci's British equivalent The Thick of It, in which this comic conceit was first tested to it's scenery-rattling limits, not least by Peter Capaldi as the laceratingly ruthless Malcolm Tucker.
Getting On (based on Getting On)
Speaking of Peter Capaldi, he also directed several episodes of this BAFTA-winning medical comedy, and made the odd appearance in front of the camera. Set in a hospital, Getting On is about the problems of doing a worthwhile job while entirely distracted by the things that have been supposedly put in place to help organizations become more efficient. Nurses Kim (Jo Brand) and Den (Joanna Scanlon) are experienced in their jobs, but hampered by a climate of excessive beaurocracy, paranoia and lots of paperwork. What they're good at is dealing with the people in their care, although that's often hampered by the officious Dr. Pippa (Vicki Pepperdine), who can't seem to explain what is wrong with her patients without upsetting them. HBO remade the series with Alex Borstein, Niecy Nash, and Laurie Metcalf in the lead roles.
See more:
'Veep' Fans: A Guide to Armando Iannucci's Comedy
Relax, It's Just a Joke: When British Comedy Met Real-Life
10 British Stand-Up Comics Whom Americans Should Know
The Top 5 Unsettling Cameos Of Mark Gatiss
Read More
Filed Under: