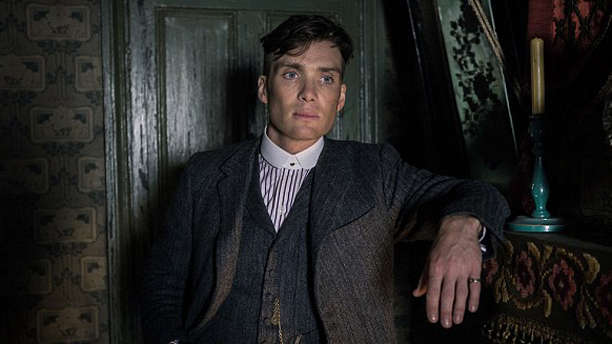 Online streaming services are making huge strides with original series like Amazon's two-time Golden Globe-winning Transparent, and Netflix's three-time Emmy Award-winning Orange is the New Black. Now, what might they have that comes in British? Let's add these to our shopping cart:
1. Peaky Blinders
Before there was Al Capone and his guys, there was Peaky Blinders, an organized crime group based out of Birmingham, England, post WWI. This deadly gang was led by the  gangster Tommy Shelby (Cillian Murphy), who describes himself as a "businessman," a businessman who wants to keep his business successful. Does everything start in England?
Watch Peaky Blinders Season 1 on Netflix.
2. The Fall
A serial killer (Jamie Dornan) is on the loose in Belfast, Ireland, and the local police have no leads. Detective Superintendent Stella Gibson (Gillian Anderson) is brought in from the London office to take on the case. She has a keen knack at profiling, setting her sights on figuring out the killer's pattern.
Watch The Fall Seasons 1 and 2 on Netlix.
3. The Wrong Mans
This action comedy series revolves around two underachievers, Sam and Phil, played by co-creators Mathew Baynton and James Corden. The bumbling office mates find themselves wrapped up in a kidnapping after Sam (Baynton) witnesses a fatal car crash and unassumingly answers a ringing phone lost at the scene. He is in the wrong place, and the wrong time.
Watch The Wrong Mans Seasons 1 and 2 on Hulu.
4. Moone Boy
Created, co-written by and co-starring Chris O'Dowd, this semi-autobiographical Irish sitcom follows Martin (David Rawle), the youngest of a quirky family, as he makes his way with the help of his imaginary friend Sean (O'Dowd).
Watch Moone Boy Seasons 1 and 2 on Hulu.
5. Mozart in the Jungle
Malcom McDowell leads the NYC Philharmonic as the The Maestro in this music-infused comedy. He is the king of his jungle, until he's pushed out by the new kid (Gael Garcia Bernal). English actress Saffron Burrows plays a cellist in the symphony, taking a newbie musician under her wing, played by British-American actress Lola Kirke (sister of Girls' star Jemima).
Watch Mozart in the Jungle on Amazon Prime.
What have you been Brit binging on lately?
See More:
Brit Binge Watching: 10 Little-Seen Brit Gems You Can Stream Online
Brit Binge Watching: If You Like 'Orange is the New Black' …
10 Things So Right About 'The Wrong Mans'
Read More
Filed Under: