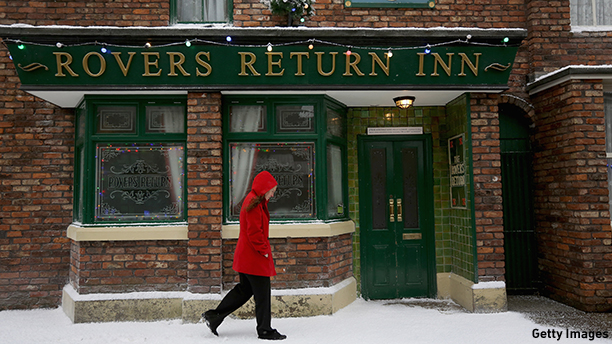 It's no coincidence that British soap operas are almost always centered around the local drinking establishment. For the pub is so deeply engrained in Britain's sense of community, such an intrinsic part of the culture, that for those who leave her shores no adequate replacement can ever be found. Sure, America has its fair share of quality watering holes, but there is nothing quite like sitting by the blazing fire of a cozy British pub while sipping contentedly on a pint of real ale.
Britain has pubs, America has bars
Generally speaking, or generally drinking, if you will, America has more of a bar scene than a pub culture. Particularly popular is the sports bar, where thousands of giant TV screens simultaneously broadcast billions of seemingly never-ending games. Such places are rowdy, loud and full of frat bros loaded on light beer. British pubs are quiet, relaxing environments, and although there are pubs in America, they don't serve the same function as they do in the U.K. This is because Brits occupy pubs in the same way Americans occupy coffee shops. Brits will happily go to a pub during the day (without fear of judgment) to work, read, take meetings or simply enjoy a drink.
History
Most British pubs take their charm from the old buildings in which they're housed. No two are ever the same, but many share quaint and quintessential characteristics like low ceilings held aloft by wooden beams, stone floors, log fireplaces, mahogany shelving littered with bric-a-brac and a regular named Dave. These public houses have scarcely changed in centuries, and the walls could teach you a thousand lessons about love, life and knowing your limits. In Nottingham alone, three pubs claim to date from before the mid-15th century. Meanwhile, if you happen to stumble across somewhere in the U.S. claiming to be "Ye Olde Traditional Pub" the chances are slim that it was built any earlier than the turn of the 20th century. That's not to say that old pubs don't exist in America; it's just that they're few and far between.
The Cat & Custard Pot vs. Johnny's Bar
British pubs are usually bestowed with such imaginative and wondrous names (The Pig & Whistle, The Drunken Duck, The Swan With Two Necks) that most of the time they don't even allude to the concept of friends gathering to enjoy a drink, but rather conjure images resembling some magical creature from a Brothers Grimm fairytale. American drinkeries, on the other hand, tell it like it is with wholly colorless names such as "Mike's Tavern," "Jeffrey's Taproom," or even the simple yet uninspiring "Bar."
The fruit machine
In every corner of every pub in every British town, you will find a fruit machine. This is not a vending machine from which punters may dispense fresh fruit for their consumption; rather it is a slot machine much like the ones found in Las Vegas and Atlantic City. Colloquially known as a "gambler," the machine is a confusing clusterjam of flashing fruits and strange beeping that only the person with the lowest IQ in the pub can understand.
British pubs are family-friendly
Most British pubs are family-friendly and even have a playground out back for the kids. Usually there's a separate area inside the pub marked "Family Room" where children are permitted. This ensures the little tykes don't displease the kid-loathing adults drowning their sorrows at the bar. Meanwhile, I don't recall ever having seen a child in a bar in the United States.
Age
As we all know, the legal drinking age in the U.K. is 18, which means there's a much younger clientele frequenting British pubs than there are American bars. Add to this some British lackadaisical door security, and you've got kids who couldn't get into an R-rated movie without an accompanying adult buying drinks, making the pub look more like a youth club than a fully licensed taproom. In America, however, almost every bar will have a bouncer on the door who won't let you in unless you have valid identification proving you're 21 or over. Even if you're 63 and look terrible for your age, you'll still be asked for ID. Interestingly, in the U.K. it's actually legal for someone as young as 16 to drink beer, cider or wine in a pub so long as it's with a meal and they are accompanied by an adult over 18 who purchases the alcohol.
Closing times
Until the 2003 Licensing Act changed the law, British pubs had to close at 11:00 pm on both weekdays and weekends. After the law came into force at the end of 2005 it permitted licensees to theoretically operate 24 hours a day if they applied for a license. However, here we are a decade later, and you'd still struggle to get a drink at a British pub after 11:00 pm. Bars in America, on the other hand, will happily keep serving until the wee hours so long as revelers keep ordering (at least this is what it feels like, in actuality bars in most states call last orders at 2 am, although many go later).
See more:
Which NFL Team Should Brits Root For?
Eating Out: 10 Differences Between Britain and America
Read More
Filed Under: