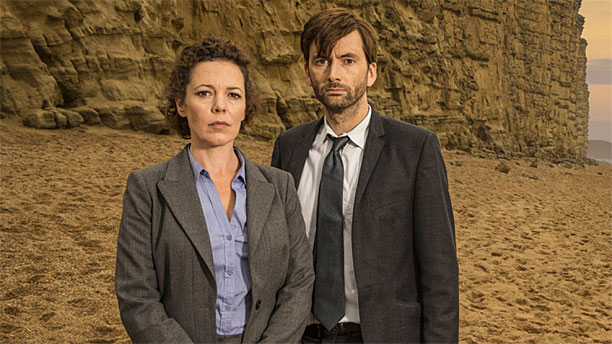 We've already talked about which cinematic delights await Anglophile viewers in the coming twelve months, but what about the small screen? There's never been a better time to see a wide range of U.K.-produced shows on American television, whether on BBC America, PBS, or assorted cable broadcasters — so here's our guide to the fifteen shows that any self-respecting Anglophenia reader can't afford to miss out on in 2015:
1. Broadchurch
Barely a matter of months after the U.S. remake, Gracepoint, ended, David Tennant returns to his home shores for the second season of the crime drama that had practically everybody talking about it in 2013, and is very likely to again in 2015. The plot details have been kept under such strict secrecy that we don't even know the precise nature of the crime being investigated by Tennant and Olivia Colman, or even if there will be one. The only way to find out what's going on will be to watch the show on BBC America when it premieres on Wednesday, March 4.
2. The Musketeers
The second season of the swashbuckling drama may have lost Peter Capaldi — we can't remember exactly why he's busy, but we're sure it's important — but fortunately, the stories of Alexandre Dumas have a ready-made replacement for his Cardinal Richeliu in the shape of the similarly villainous Comte de Rochefort. Marc Warren (Hustle) joins the cast as the new bad guy, while the core group of Luke Pasqualino (D'Artagnan), Tom Burke (Athos), Santiago Cabrera (Aramis), Howard Charles (Porthos) and Alexandra Dowling (Queen Anne) all return. The show returns to BBC America on Saturday, January 17 at 9/8c.
3. Jonathan Strange & Mr. Norrell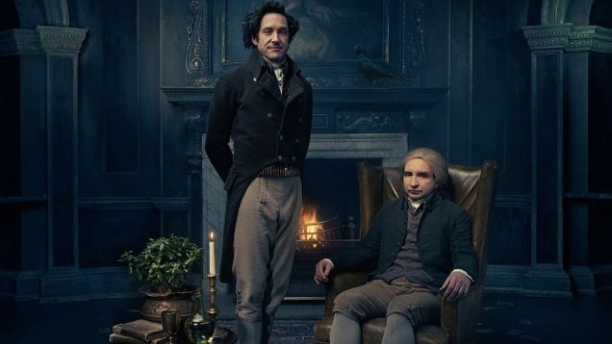 The long-awaited adaptation of Susanna Clarke's 2005 Hugo Award-winning fantasy novel tells the story of two nineteenth-century men who rediscover a lost form of magic, and has been adapted for the screen by Peter Harness (Doctor Who, Wallander). Strange and Norrell are played by Bertie Carvel (who originated the role of Miss Trunchbull in the Matilda stage show) and Eddie Marsan (The World's End, Tyrannosaur) respectively. Musketeer's Marc Warren will appear, too. The series will air on BBC America later in 2015.
4. Babylon
This comedy-drama about police in London was a critical hit upon its broadcast on Channel 4 in the U.K. in late 2014. Co-created by Danny Boyle (Slumdog Millionaire) and Jesse Armstrong & Sam Bain (Peep Show), it stars James Nesbitt (Jekyll), Paterson Joseph (Peep Show) and Brit Marling (Another Earth), and has been picked up by SundanceTV to start airing on January 8.
5. Ripper Street
Unusually, after having its original BBC run cancelled, the Victorian-era police drama was picked up and co-financed by Amazon for its third season, for exclusive U.K. broadcast on the online Amazon Prime service. Fortunately for U.S. fans, however, you'll still be able to see it on BBC America: the season will start airing early in 2015. Matthew Macfadyen, Jerome Flynn, Adam Rothenberg and MyAnna Buring all return.
6. Orphan Black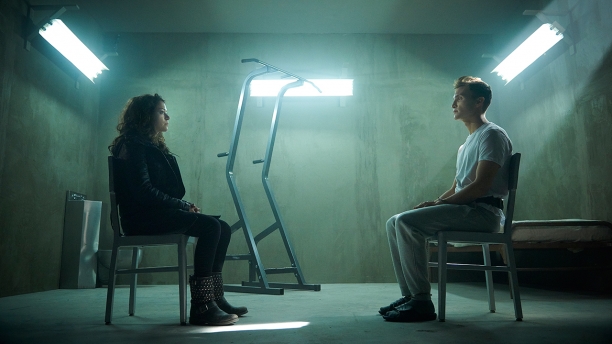 The smash hit BBC America series returns for its third season in the spring, promising yet more in the way of dramatic twists and turns. Justin Chatwin (Shameless), James Frain (Intruders) and Ksenia Solo (Black Swan) are new additions to the cast, which is still of course led by Tatiana Maslany. We're told that third season "plunges the clone sisterhood into unexpected territory with the realization that they're not alone. Just when they thought they knew their enemies and allies, season three reveals our clones are more vulnerable than ever before." The new season debuts Saturday, April 18.
7. Downton Abbey
Well, we'd be very surprised if you don't already have Sunday, January 4 marked in your calendars as the premiere date for the fifth season of Downton, but we really should mention it anyway. All eight episodes of the fifth season, along with the Christmas special that's just aired in the U.K., will be shown on PBS Masterpiece between January and March, bringing the storyline up to the year 1924. Perhaps the most notable addition to the show's guest cast, meanwhile, is that of Richard E. Grant (Withnail & I), who joins for several episodes.
8. Humans
This could be one of the most exciting new sci-fi shows of the year: a remake of the Swedish drama Real Humans, it's set in an alternate near future where household robot servants are commonplace, and explores the ethical dilemmas of their near-human nature. A terrific cast is headed up by William Hurt (Body Heat, Broadcast News), and also includes Katherine Parkinson (The IT Crowd), Colin Morgan (Merlin) and Rebecca Front (The Thick of It). Produced for Channel 4 in the U.K., it's already been picked up to air on AMC in the U.S. later in the year.
9. The Casual Vacancy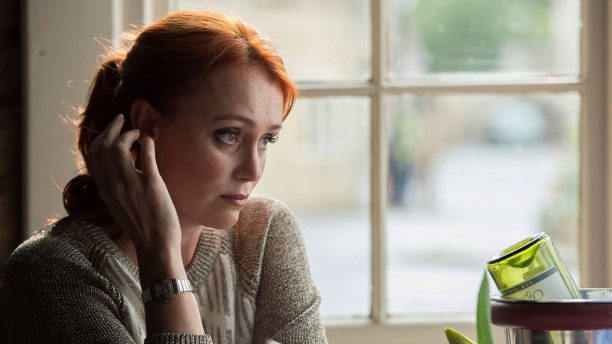 An absolutely stellar cast has been assembled for this adaptation of J.K. Rowling's debut adult novel, including Rory Kinnear (Skyfall), Michael Gambon (Harry Potter), Keeley Hawes (Ashes to Ashes), Julia McKenzie (Miss Marple) and Emily Bevan (In the Flesh). A co-production between the BBC and HBO, it should air on the latter some time later in 2015.
10. Wolf Hall
Damian Lewis (Homeland) stars as Henry VIII in another high-profile BBC literary adaptation, this time of Hilary Mantel's Booker prize-winning series of novels. It tells the story of the rise to power of Henry's trusted advisor Thomas Cromwell, and promises all manner of intrigue and skullduggery. It will be shown on PBS Masterpiece later in the year.
11. Cucumber / Banana
The return to screenwriting of former Doctor Who showrunner Russell T Davies is huge news no matter how you slice it: and Cucumber is a long-in development project with huge personal significance to the Queer as Folk creator. It's a pair of interconnected drama series, each following different but overlapping characters in and around Manchester's gay scene. Cucumber is the main strand, which will air in the U.K. on Channel 4 and focus on older characters, while Banana has been created for the digital "sister" station E4 and features younger characters. Both shows have already been picked up by Logo TV for broadcast in the U.S. in early 2015.
12. Daredevil / Agent Carter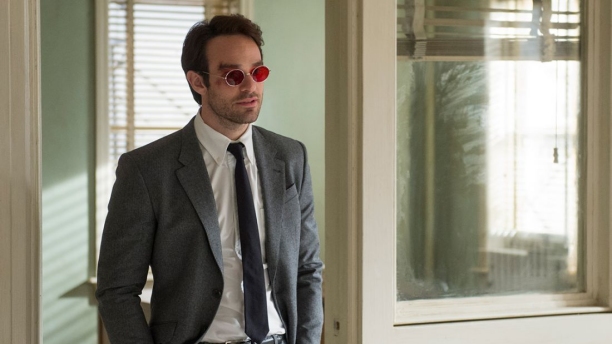 We're grouping these two together, even though they're unlikely to actually cross over in any way, as they're U.S. rather than U.K. shows: but what they both have in common (aside from being Marvel Studios productions) is that both of their leads are Brits. Daredevil, a Netflix exclusive, features Charlie Cox of Boardwalk Empire as the titular blind vigilante; while Agent Carter is the long-awaited TV spinoff from Captain America, featuring Hayley Atwell in the lead role.
13. Luther
We can remember a time when it looked like Idris Elba's London-based sleuth wouldn't be returning for any more episodes: but thankfully, creator Neil Cross has relented: "Ever since we said goodbye to John Luther on Southwark Bridge, there's hardly been a minute when I didn't wonder what happened next," said the writer. "So I decided to find out. We're putting the band back together: Luther is coming back where he belongs. Back to the BBC. Back to London. And back to work." The two-part special will begin filming in March, for broadcast on BBC One and BBC America later in the year.
14. Doctor Who
In a few months' time, we'll be celebrating the tenth anniversary of Doctor Who's triumphant return to television: and unsurprisingly, the latter half of the year will see that marked with the all-new ninth season. Of course, so soon after Season 8 finished, we don't yet know very much about the season at all, save that all the main players (showrunner Steven Moffat, Twelfth Doctor Peter Capaldi and companion Jenna Coleman) will be onboard for the whole run. There's also already heavy speculation, stirred by Moffat himself, that Michelle Gomez could be making a comeback as Missy/the Master. But as for everything else? Well, that's what we'll have fun finding out over the next few months…
15. Sherlock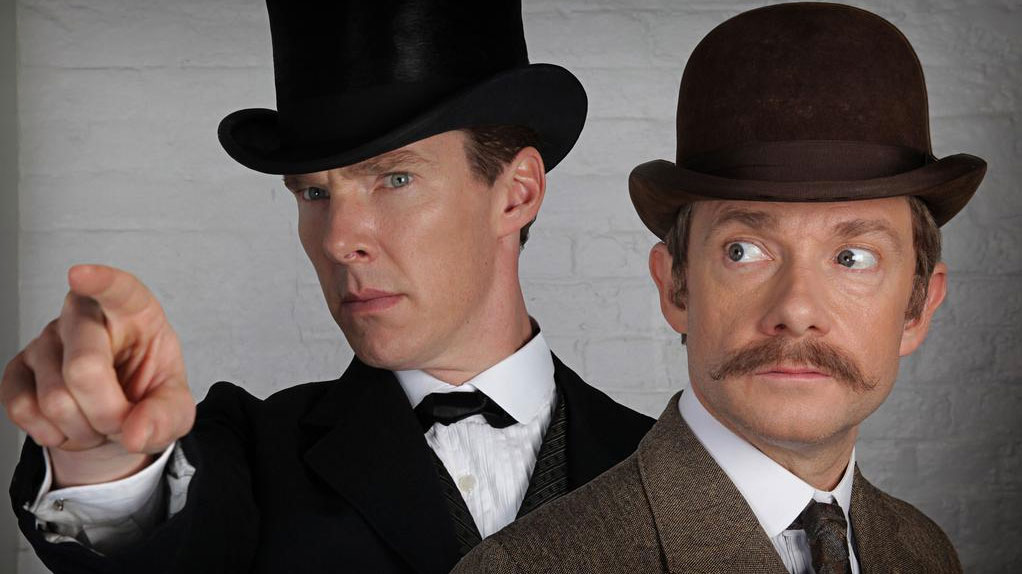 The long, long gaps between seasons of Sherlock are one of the most painful experiences in modern-day television: but in 2015, there's at least a small crumb of comfort, in the shape of a Christmas special. Okay, so it still means having to wait until December, but at least that's better than waiting until January: and what's more, the new year in 2016 will also see a full season of three episodes. But until then, if anyone can tell us what those costumes Benedict Cumberbatch and Martin Freeman are wearing in the special's promo photo are all about, we're all ears.
What will you be watching in 2015?
See more:
ITV Shows First Teasers For 'Broadchurch' Season 2
WATCH: Scandal and Fire in New 'Downton Abbey' Trailer
Whatever This 'Sherlock' Picture Means, We're In
Read More
Filed Under: