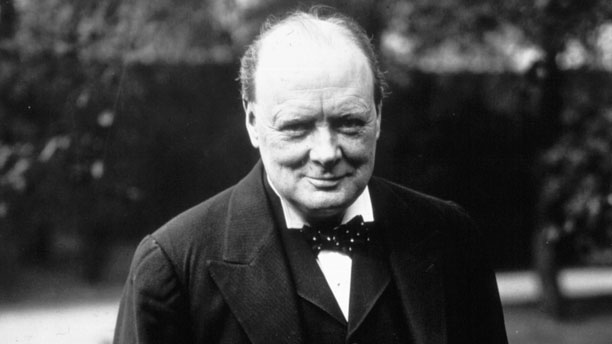 January 24 marks the 50th anniversary of the death of Sir Winston Churchill, undoubtedly one of the giants of 20th century world politics and an enormously popular figure in Britain.
Thanks to an eventful life played out during some of the most unsettled years in world history, his is a reputation that is not without controversy (see this BBC News appraisal of his more hotly contested moments, for illustration) but surprisingly jam-packed with idiosyncrasy and whimsy alongside the British Bulldog growl and wartime tenacity.
Here are 10 aspects of his life that don't quite square with the legend (in the best way possible):
He was the first known recipient of textspeak
Well, sort of. Certainly the first recorded use of the commonly-used acronym OMG was sent in a letter to Winston Churchill from Admiral John Arbuthnot "Jacky" Fisher in 1917. Having seen some upsetting headlines about the German navy, Fisher wrote: "I hear that a new order of Knighthood is on the tapis*—O.M.G (Oh! My! God!)– Shower it on the Admiralty!!"
You can see the whole thing at Letters of Note.
* On the tapis was a Victorian phrase meaning on the table, where tapis = tablecloth.
He traveled by pod
During the Second World War, it became imperative for Churchill to travel by plane, particularly to America and Moscow. But he had been warned by his doctors not to fly over 8,000 feet as it could be perilous to his health. This impractical state of affairs was remedied by the construction of a pressurized chamber within his personal place, in which Churchill reclined in fine style. It had a telephone, a mattress, and a strong enough air conditioning system to allow the great man to continue to smoke. All under doctor's orders.
He saw Lincoln's ghost
Several people of otherwise impeccable character are on record as having seen the ghost of Abraham Lincoln in the White House, and one of those is Winston Churchill (who, it was memorably reported by White House Chief Usher J.B. West, spent a good deal of his down time drinking brandy in the nude).
He's in pretty good company on the Lincoln front, however; other people who claim to have seen him include Grace Coolidge (when she was First Lady), Theodore Roosevelt and Maureen Reagan, daughter of Ronald.
His was a fabled wit
Some of Churchill's best one-liners are rightly legendary, and we'll come back to them in a subsequent post, but there's an addendum to a speech that has become a touchstone of British post-war culture which deserves a second hearing. With Britain alone and facing Nazi invasion in 1940, Churchill delivered a rousing call to arms at the House of Commons, including the famous lines "We shall fight on the beaches, we shall fight on the landing grounds, we shall fight in the fields and in the streets, we shall fight in the hills; we shall never surrender…"
This provoked an enormous ovation, during which Churchill is said to have whispered to a colleague: "And we'll fight them with the butt ends of broken beer bottles because that's bloody well all we've got!"
But not all of his gags were spontaneous
In fact, a speech impediment in his youth left Churchill occasionally needing to rehearse everything he said before he said it. In adulthood, this became part of his planning for social and political encounters, he would think of sharp responses to any potential question, and make sure he could deliver them if required. In fact, the "beer bottles" line above has been attributed to him on a few other occasions, suggesting either that it's an urban myth, or that he may have used it more than once.
He escaped from a POW camp in the Boer War
Churchill graduated from the Royal Military Academy at Sandhurst, but first saw action as a war correspondent for a newspaper. He later combined the two roles. In 1899, having arrived in South Africa, he was traveling in an armored train that was ambushed by Boers. Captured and taken to a prison camp, Churchill escaped by climbing over the wall. He found shelter in a mineshaft run by a British coal mine manager, who helped him hide in a consignment of wool heading for Mozambique by train. He then got on a ship bound for South Africa and reported for duty, a hero.
He could build a wall
This isn't a metaphor for his political achievements: Churchill was a dab hand with the bricks and mortar and put up several of the walls at his Chartwell home, where he also bred butterflies.
He won the Nobel Prize
Churchill is the only British Prime Minister to have received the Nobel Prize for literature. He wrote over 20 books, including his own eventful memoirs, biographies of his father and the first Duke of Marlborough, histories of World War I and World War II, and the self-explanatory A History of the English Speaking Peoples. His Nobel Prize came in 1953, and was awarded "for his mastery of historical and biographical description as well as for brilliant oratory in defending exalted human values."
He led a charmed life
Somehow, Churchill managed to compile an impressive list of scrapes and skirmishes without suffering any permanent damage. These include crashing a plane he was learning to fly, throwing himself off a bridge (he wound up concussed and suffering from a ruptured kidney, but was otherwise fine), a near drowning in Switzerland, a dislocated shoulder in India and being hit by a car on Fifth Avenue, New York because he looked the wrong way before crossing. And this does not take into account the many serious attempts on his life that were thwarted by his bodyguard, Walter H. Thompson. He eventually died aged 90, from a stroke.
His is a most modest epitaph
Churchill's epitaph reads, "I am ready to meet my Maker. Whether my Maker is prepared for the great ordeal of meeting me is another matter."
The Churchill family motto is the similarly self-depreciating Fiel Pero Desdichado, meaning "faithful, but unfortunate."
See more:
Winston Churchill as Politician and Journalist: 'He Made the News by Writing It'
Sir Winston Churchill Goes Digital From Beyond the Grave
British Education: Where the Poshest Kids Attend School
Snapshot: 13 Photos of English Bulldogs Doing Their Thing
Read More
Filed Under: