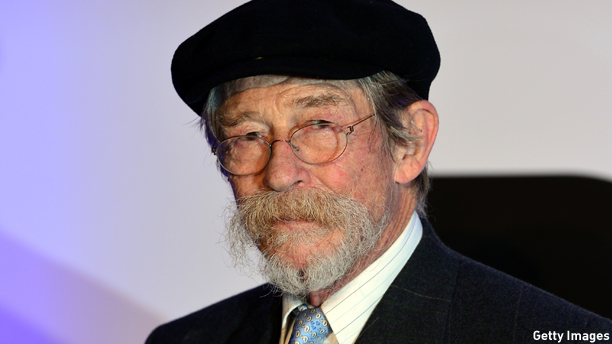 Sir John Hurt made his first appearance on the big screen at the wee age of 22 as a university student in The Wild and the Willing, opposite Ian McShane. The British actor, who was knighted this past year, turns 75 today (January 22), with quite an extensive career to celebrate. It's difficult to narrow down a list of his standout roles, because there are so many to choose from, but here are 10 must-see performances:
1. The Wild and the Willing (1962)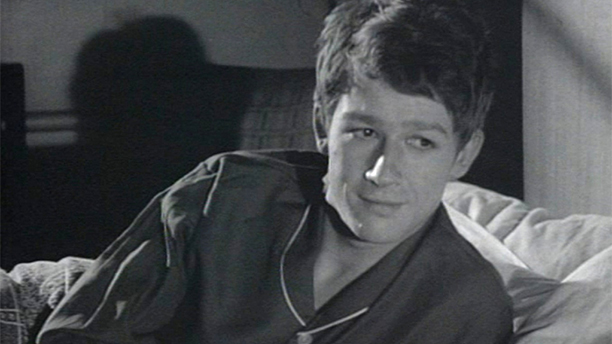 At first glance, The Wild and the Willing may sound like a Western film. But, no, it's about British youths on their own for the first time, heading to university. Both Ian McShane and John Hurt make their screen debuts in this coming-of-age story, with McShane playing the big man on campus and Hurt as his underdog roommate.
2. A Man for All Seasons (1966) 
Hurt stumbled upon something great with his first major role in A Man for All Seasons. The picture won six Academy Awards including Best Picture, Best Director (Fred Zinnemann) and Best Actor (Paul Scofield). The film is set in 16th Century England, revolving around Sir Thomas More (Scofield), the Lord Chancellor who refused to sign King Henry VIII's request for a divorce. Hurt portrays Richard Rich, also a Lord Chancellor, but who was not as scrupulous as More.
3. The Naked Civil Servant (1975)

The Naked Civil Servant is a TV movie based on gay icon and writer Quentin Crisp's autobiography. The 90-minute film takes us through Crisp's life from his unhappy childhood growing up in Sutton, fleeing to London at the end of 1930, and making his way into middle age working odd jobs. While not all fun times, Crisp tells his story with an unquestionable zeal. Hurt won a BAFTA for Best Actor in his portrayal of Crisp. He reprised this role, portraying Crisp later in life, in An Englishman in New York (2009).
4. Midnight Express (1978)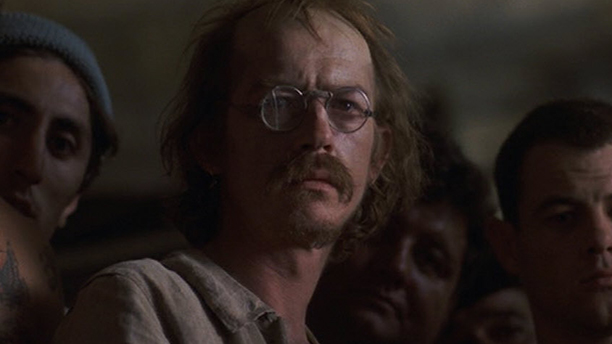 Hurt was nominated for an Academy Award, and won both a Golden Globe and BAFTA for Best Supporting Actor based on his performance in Midnight Express, opposite Brad Davis. Hurt portrays an English heroin addict detained in a Turkish prison where he meets American Billy Hayes (Davis), who has been arrested for possession of hashish. Midnight Express is a term used by prisoners, loosely translated to: "We need to get outta here."
5. The Elephant Man (1980)
Hurt stars opposite Sir Anthony Hopkins in the gutting true story of Joseph Merrick, a 19th century English man who suffered from facial deformities, also known as the Elephant Man. Hurt took on the title role, which earned him Academy Award and Golden Globe nominations. In the film, we see Merrick through the humane eyes of surgeon Sir Frederick Treves (Hopkins). Treves tries to help the young man manage his incurable condition.
6. Spaceballs (1987)

Speaking of gutting, do you remember where you were when you first saw Alien? Specifically the scene when the alien, who Hurt was the host to, came bone-crushingly out of his abdomen? That image is unforgettable, but what's even better is when Hurt recreated that scene for Mel Brooks' Space Balls. We like that the award-winning actor has a sense of humor, and can have a laugh, even if it's at his own expense.
7. Rob Roy (1995) 
How do we put this delicately: Hurt kind of plays a jerk in Rob Roy (there's really no smooth way to go about it). Liam Neeson gets the job of playing the hero in Rob Roy MacGregor, a Scottish Highland Chief. MacGregor makes the grave mistake of borrowing money from his neighbor James Graham, 1st Duke of Montrose (Hurt). Things get messy when he can't repay his debts.
8. Harry Potter and the Deathly Hallows: Parts 1 and 2 (2010, 2011) 
Hurt's role in Harry Potter is brief, but quite consequential: he sets Harry Potter up with his first wand. Hurt takes on the role of Garrick Ollivander, who owns and runs the wizard-friendly Ollivander Wand Shop. Ollivander makes the wands, but the wand chooses the wizard.
9. Tinker Tailor Soldier Spy (2012)
Everyone is suspect in Tinker Tailor Soldier Spy. We're not exaggerating when we say, "everyone," this Cold War espionage film is topped up with fan favorites including Gary Oldman, Benedict Cumberbatch, Colin Firth, Mark Strong, Toby Jones, and Ciarán Hinds. Hurt is in charge of all of them, portraying the head of British Intelligence, the "Circus," and goes by the code-name, "Control." He delves out code-names "Tinker," "Tailor," "Soldier, "Poor Man," and "Beggar Man," to his top guys in hopes of revealing a Russian mole.
10. Doctor Who (2013) 
Hurt is a Doctor Who alum having starred alongside both Matt Smith and David Tennant in "The Day of the Doctor," the series' 50th Anniversary episode. Hurt takes on the role of the War Doctor, the incarnation of the Time Lord who faces a moral dilemma in how to end the Time War. He later transforms into the Ninth Doctor.
Happy birthday, John Hurt, thank you for all your amazing performances!!
See More:
John Hurt and Kristin Scott Thomas Top the Queen's New Year's Honours List
John Hurt Wants More Kissing On 'Doctor Who'
Read More
Filed Under: