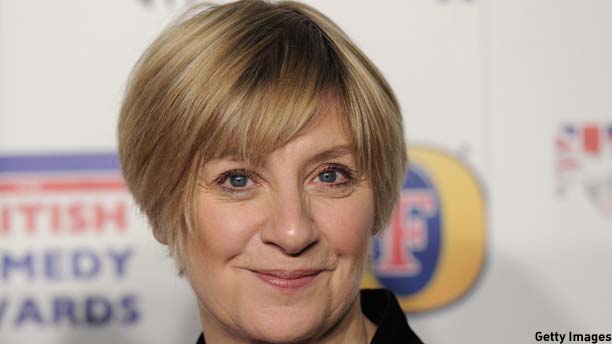 Much of the buzz surrounding this week's episode of The Graham Norton Show is centered on One Direction's Zayn Malik and his strategically (or not) placed strand of hair, or on Sir Ian McKellen's creative reading of the band's hit, "Best Song Ever."
You'd be forgiven, then, for not realizing that there was more to the episode than the world's biggest boy band and the man known as Gandalf. But along with Michael Keaton (Batman and now, Birdman), Graham was also joined by Jamie Oliver and none other than Victoria Wood.
You can't really go too far in London without coming across one of Jamie Oliver's restaurants. The noted celebrity guest and former face of British grocery chain, Sainsbury's, has opened several restaurants in London alone, and even more all across the U.K. He has also published his mouthwatering recipes in a whopping 18 cookbooks, and has shared his technique with audiences on cooking shows such as Jamie's 30-Minute Meals, and then Jamie's 15-Minute Meals. A bit like the British male version of Rachael Ray, then.
Currently, Oliver is taking holiday food to the next level with Jamie's Cracking Christmas on Channel 4, on which he shares recipes for festive dinners.
If you thought he was impressive in the productivity department, just wait: he faces stiff competition in fellow guest, Victoria Wood, an actress, comedienne, singer-songwriter, screenwriter, and director.
Along with writing and starring in sketches (some of which she worked on with long-time collaborator Julie Walters), she has appeared on television programs such as the award-winning Victoria Wood As Seen On TV and is known for her work on the British sketch and live comedy scene.
For her television work, she was won four BAFTAs, for Victoria Wood As Seen on TV, An Audience With Victoria Wood, and Housewife 49.
In case you didn't feel quite inadequate enough yet, she's also had tea with Matt Smith on her program, Victoria Wood's Nice Cup of Tea:
She's also one of the few to have faced Graham Norton on the opposite side of the microphone. Here she is, interviewing him on the tradition of a nice cup of tea:
Tune into The Graham Norton Show on BBC America on Saturday, December 13 at 10pm EST to see her catch up with Graham alongside Michael Keaton, Jamie Oliver, Sir Ian McKellen, and One Direction!
See more:
Who Are the Brits on Graham Norton's Couch? Julie Walters and Take That
Who's the Brit on Graham Norton's Couch: Olly Murs
Who's the Brit on Graham Norton's Couch? Meet Richard Ayoade
Read More
Filed Under: