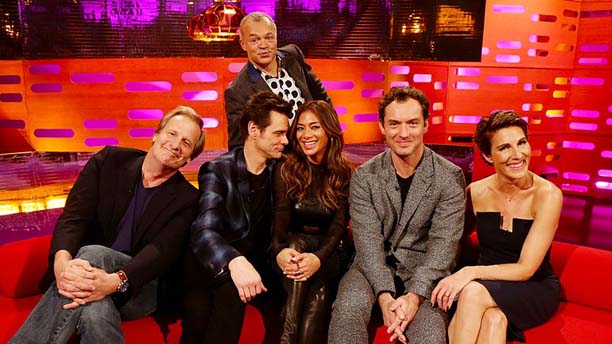 This week, The Graham Norton Show is playing host to comedy legends Jim Carrey and Jeff Daniels, along with ex-Pussycat Doll Nicole Scherzinger, Jude Law, and Tamsin Greig.
Of course, you know Jude Law as a noted British actor who's appeared in films such as The Talented Mr. Ripley, Closer, Sherlock Holmes, and more recently, The Grand Budapest Hotel. As of late, he's been promoting his new thriller, Black Sea, for which you can see the trailer below:
But who's the other Brit on Graham's couch?
That would be Tamsin Greig, an English actress known for both her comedic and dramatic roles. Austenites may recognize her as Miss Bates in the 2009 TV serial of Emma, alongside Romola Garai and Jonny Lee Miller.
She is perhaps most famous for having starred in the British sitcoms Green Wing and Black Books, both of which you can stream on Hulu. In addition to television work, though, she's also had a brief cameo in Edgar Wright's cult hit, Shaun of the Dead, and is set for a role in the upcoming The Second Best Exotic Marigold Hotel.
Currently, Greig is starring in both Episodes and Friday Night Dinner and has also somehow found time to prep for her West End debut in the musical adaptation of Pedro Almódovar's Oscar-nominated film, Woman on the Verge of a Nervous Breakdown. The musical began previews on December 16 and officially premieres in the new year on January 12.
Take a look at a preview of her on Graham's show, discussing getting "turned on" for filming:
Now that you've gotten a crash course on all things Tamsin Greig, you're ready to tune into The Graham Norton Show on Saturday December 20 at 10/9c on BBC America!
See more:
Who's the Brit on Graham Norton's Couch? Victoria Wood
Who Are the Brits on Graham Norton's Couch? Julie Walters and Take That
Who's the Brit on Graham Norton's Couch: Olly Murs
Read More
Filed Under: