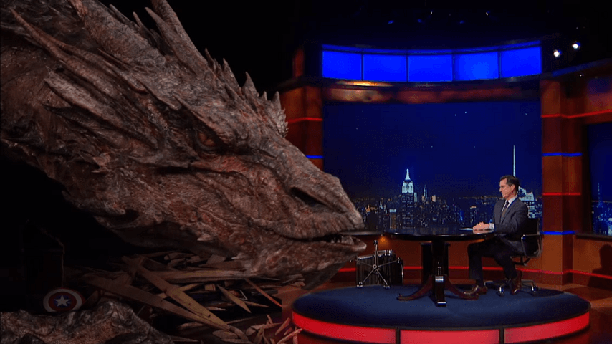 Comedy Central's Stephen Colbert, a life-long fan of J.R.R. Tollkien and his writing, has a sit-down with the legend, Smaug, on his late night show The Colbert Report.
Smaug knows how to make an entrance, crashing through the studio wall in the video. Colbert exchanges pleasantries with his massive guest, talking about what they have in common like, "living in gated communities," and "sleeping on giant piles of money."
The late night host moves on to Smaug's resume, going through a checklist of what it takes to be a "real dragon." The fire-breathing guest commits an interview faux pas, talking down about his British colleagues Martin Freeman and Benedict Cumberbatch.
You can check out the video below, courtesy of Hulu:
Is Smaug the baddest dragon in town?
See More:
Martin Freeman Says Bye-Bye To Bilbo
WATCH: New 'Hobbit' Trailer – 'The Desolation of Smaug'
Week-Long 'Hobbit' Tribute on 'Colbert Report'
Read More
Filed Under: