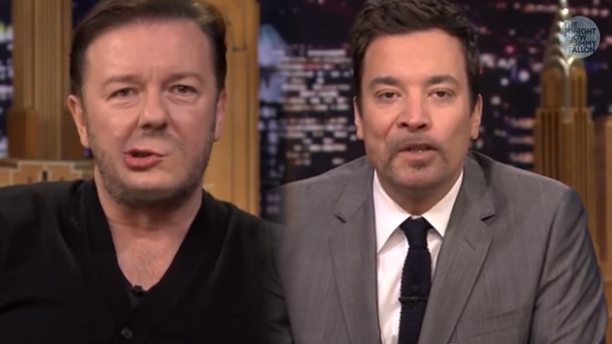 British actor and comedian Ricky Gervais swung by the The Tonight Show with Jimmy Fallon to … well, we're assuming he was there to talk about an upcoming project, but it turned into a sort of mash-up.
Host Jimmy Fallon is known for changing things up on his chat show, not necessarily sticking to the "talking head" routine, and came up with a new game, which he and his team coined, "Lip Flip."
It's pretty much what it sounds like; the two not only swapped lips, but exchanged words. You can only imagine what the two came up with, having the opportunity to literally put words in the other person's mouth.
It's cute, funny, and a little dastardly at some points, which you can check out for yourself below:
https://www.youtube.com/watch?v=IrPvoSLNMw4
Was there a highlight/lowlight that you enjoyed most?
See More:
WATCH: Ricky Gervais Has a Special Thanksgiving Message for British Airways Flyers
WATCH: 17 British Celebs Starring on 'Sesame Street'
WATCH: 'Night at the Museum 3′ Trailer Goes to London
Read More
Filed Under: