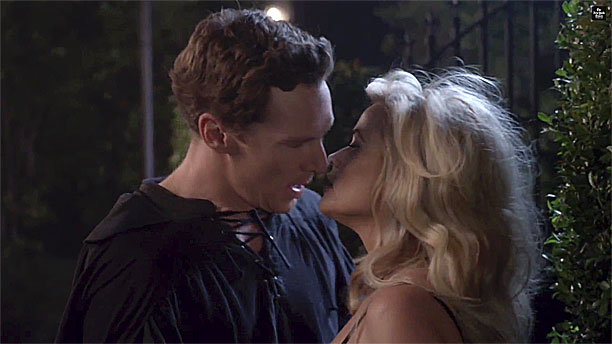 Note: that's her full name above, he's not snogging her with an actual spoon, that would be messy.
So, yesterday the New York Times magazine published a selection of videos called 9 Kisses, to celebrate the dramatic arts. They encouraged actors to cop off (as the British would say) for the camera as a way of showing the height and breadth of emotion that theatre can deliver. And to do this they've employed some of 2014's biggest talents.
So there's Steve Carrell smooching awkwardly with Laura Dern…
…Chadwick Boseman locking lips with Kristen Stewart…
…David Oyelowo and Timothy Spall enjoying a manly moment…
…Gugu Mbatha-Raw's contrite bridal kiss with Miles Teller…
…and then this, Reese Witherspoon dressed as a sexy tin foil girl, waiting by a hedge for Zorro to come along, and when he does, he's Benedict Cumberbatch and he's worried about them being seen.
That's proper acting, that is.
Here's the whole thing—also starring Rosario Dawson, Jenny Slate, Patricia Arquette, Jason Schwartzman, DaJack O'Connell, Shailene Woodley, John Lithgow and Julianne Moore—so that you don't miss a single slurpy moment:
See more:
Benedict Hails the Unsung Heroes of British Film
WATCH: Timothy Spall on Learning to Paint for Prize-Winning Role
Modern 'Doctor Who': Where Are They Now?
Snapshot: The Year 2014 in Cumberbatch
Read More
Filed Under: