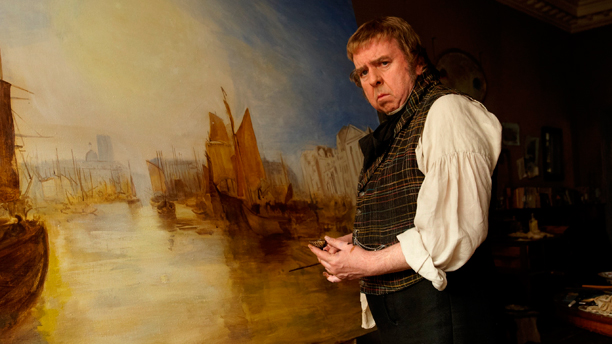 Timothy Spall was in New York doing promotional interviews for his celebrated portrayal of the British landscape painter J.M.W Turner in the film Mr. Turner when he found himself somewhat unexpectedly the recipient of the prestigious New York Film Critics Circle Best Actor prize.
The award makes him a more viable candidate in the forthcoming Oscars race—although he faces challenging odds. In the midst of all the pre-Oscars mania, Spall just remains thankful for the recognition.
He says: "You boil it down to its bare essence, what it means is that people have liked the film. That means other people might like it, and that means they might go and see it. That means spending two years making it has not been a waste of time!"
Spall is thoroughly convincing in the role bringing a portrait of Turner to the screen that's always engaging. The actor learned to actually paint for the role so he could make his screen version of Turner look authentic.  He says: "I did get to a point where I could paint up to a level when he was about nine, and I have to pride myself and say if you've seen any of his pictures when they were nine, they weren't bad."
Seconds after I completed my interview with the actor his publicist brought him the news that he'd won the New York Film Critics Circle Best Actor award. He was genuinely pleased. While it's very easy to get cynical about awards when so many are handed out, it was gratifying to see what a prize can mean for an actor.
See more:
WATCH: Mike Leigh on Art Biopic 'Mr. Turner': 'The Film Is In No Way a Self-Portrait'
WATCH: Britain Flies Flag at Cannes with Mike Leigh, Ken Loach, Matt Smith's 'Lost River'
Who's the Brit on Graham Norton's Couch: Timothy Spall
Read More
Filed Under: