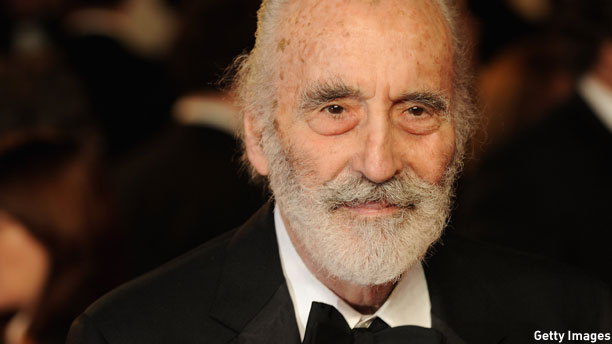 If you were Sir Christopher Lee, you'd do whatever crazy projects took your fancy too, right?
So why not release a festive heavy metal song or two, every year, using the exact same photo to promote it, in an act that is as baffling as it is thrilling? Last year's "Jingle Hell" charted at #18 on the Billboard charts, making Christopher the oldest person to have a Top 20 single, and this year, we have "Darkest Carols, Faithful Sing" to contend with.
It's a metallic rewrite of "Hark! The Herald Angels Sing" with distinctly rock overtones:
And as if to prove this is no Christmas goof-off, earlier this year, Sir Christopher released bombastic metal versions of such showstoppers as "My Way," "I, Don Quixote" and "The Impossible Dream." Here he is discussing exactly why these songs appeal to him:
All of this music is available at digital retailers, should you wish to indulge.
See more:
'Fleming': 10 Famous Brits Who Were Heroes In World War II
Brit Binge Watching: Six British Horror Flicks Available Online
British Education: Where the Poshest Kids Attend School
BBC Radio Brings Neil Gaiman and Terry Pratchett's 'Good Omens' to Life
Read More
Filed Under: