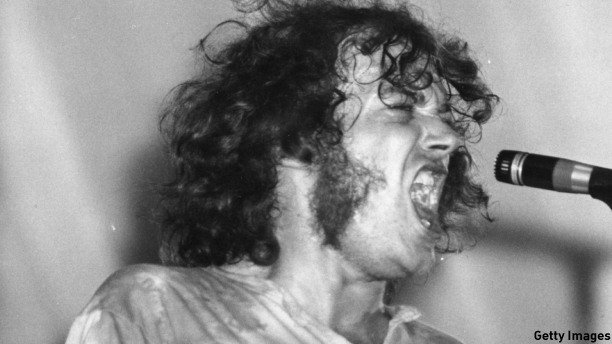 It already feels like 2014 has been a particularly acute year for the loss of brilliant and talented folk — but sadly, we have another to add to the list, as it's been announced that the great singer/songwriter Joe Cocker has died at the age of 70.
Born in Sheffield in 1944, Cocker initially juggled his music career with an apprenticeship as a gas fitter (he installed a gas fire for the mother of another famous Sheffield singer, Jarvis Cocker — no relation!) and played in several bands in the early to mid-1960s. Eventually, though, he found success as a solo artist, and his breakout hit remained his most enduring signature track: a drastically re-interpreted cover of The Beatles' "With a Little Help from My Friends". The track reached #1 on the U.K. charts, and was also a slow burning hit in his adoptive U.S., eventually becoming known as the theme tune to the hit TV show The Wonder Years. Here he is famously performing it at the Woodstock festival in 1969:
While Cocker was remembered as arguably the only singer to improve a Beatles song, his distinctive and throaty voice enabled him to lay down the definitive versions of several other tracks, too. His cover of "You Are So Beautiful" — which again employed a deliberate, slowed-down tempo — was a huge hit in the U.S. in 1975, reaching #5 on the charts. Here it is an a 1990s live performance:
His biggest chart success, however, came in 1982, when he duetted with Jennifer Warnes on the track "Up Where We Belong". Recorded for the hit film An Officer and a Gentleman, the song reached #1 on the Billboard chart, and earned the pair a Grammy Award for "Best Pop Performance by a Duo or Group" in 1983:
Cocker was awarded an OBE in 2007 for services to music, and had continued recording and performing right up to becoming ill with lung cancer — his last gig was in Hammersmith, London, in June this year.
Sir Paul McCartney was quick to lead the tributes to the late singer, writing in a statement, "I was especially pleased when [Joe] decided to cover 'With a Little Help from My Friends'. He totally turned the song into a soul anthem and I was forever grateful for him for doing that. I knew him through the years as a good mate and I was so sad to hear that he had been ill and really sad to hear today that he had passed away. He was a great guy, a lovely guy who brought so much to the world and we'll all miss him."
Do you have a favorite Joe Cocker song?

Read More
Filed Under: