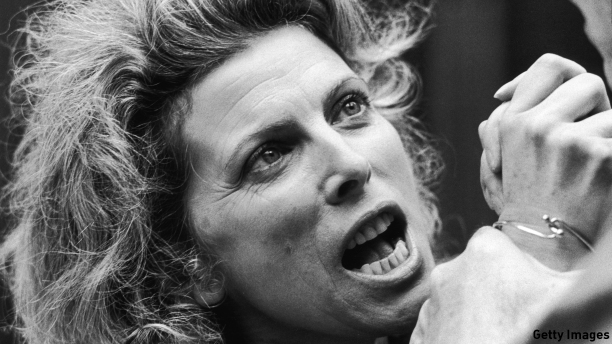 Sad news over the weekend, as it was announced that the esteemed stage and screen actress Billie Whitelaw has died, at the age of 82. Whitelaw was perhaps best-known for her movie roles, notably in The Omen and The Krays, but also had a long and distinguished career both on television and on the stage. In her latter guise, she was famed for her work with the playwright Samuel Beckett, who referred to her as both his "muse" and "a perfect actress", and wrote several experimental plays for her between their first meeting in 1963 and his death in 1989.
More recently, she became known to younger audiences with a memorable appearance as hotel landlady Joyce Cooper in the 2007 comedy Hot Fuzz, which turned out to be her final screen role. That film's director, Edgar Wright, was among the first to tweet in tribute yesterday:
Very sad to hear that the magnificent Billie Whitelaw passed away, but so very happy I worked with her. 'Hot Fuzz' was her final film.

— edgarwright (@edgarwright) December 21, 2014
Gary and Martin Kemp, the actors who played Whitelaw's screen sons in The Krays, also paid tribute:
Deeply saddened that Billie Whitelaw has died. I'll always remember her as a generous and towering actor, and 'Mum'. pic.twitter.com/cV4U0TbGUd

— Gary Kemp (@garyjkemp) December 21, 2014
Here are just a handful of the highlights of the career of one of Britain's most respected and elegant character actresses:
Charlie Bubbles (1967)
There are two reasons why this early appearance alongside (and directed by) Albert Finney would go on to become one of the most significant of Billie's career: firstly, it earned her a BAFTA award for Best Supporting Actress; and secondly, a still from the movie would ensure her iconic status among a certain stripe of indie music fan in the 1980s, courtesy of its appearance as the cover art for The Smiths' 1984 single "William, It Was Really Nothing".
Not I (1973)
This dazzling, stream-of-consciousness monologue — performed solo on a blackened stage with only the actress' mouth visible — was first played on Broadway by Jessica Tandy. But Beckett had always written it with Whitelaw in mind, and she first performed it at London's Royal Court in 1973. Four years later, it was translated to television for a memorable BBC2 broadcast, which was then repeated with the above introduction by Whitelaw herself in 1990.
The Omen (1976)
Whitelaw's turn as the sinister, murderous nanny Mrs Baylock in this classic horror film was perhaps her most well-known screen appearance, and was one of several roles that showcased her ability to play much darker characters than her demeanour off the screen otherwise suggested.
The Krays (1990)
That ability was also in force in this real-life crime drama, in which she played Violet Kray, the protective, iron-willed mother of the violent gangster twins. She said in a 1990 interview that she "was astonished when I saw the film at how angry I seemed to get, at how often I lost my temper, and I think it was because, as an actress, the way my love was coming out was in fiercely protecting those boys." The film earned her another BAFTA nomination for Best Supporting Actress.
Hot Fuzz (2007)
As well as getting one of the best running gags (the crossword puzzles) in this Edgar Wright, Simon Pegg and Nick Frost insta-classic, Whitelaw also got to take part in a gun-toting action scene. As Wright wrote on his blog yesterday, filming the above day was her last ever scene in front of the camera. "During the shoot, she was funny and sharp and it was a joy to see her at work," Wright said "Even in a cast full of great British actors, Billie was pretty peerless."
What do you think was Billie Whitelaw's most memorable role?
Read More
Filed Under: