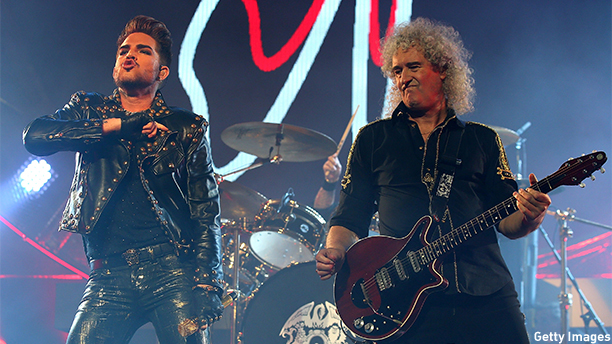 Are you already stressing over how to spend your New Year's Eve and the best way to kick off 2015? This Anglophile/British hybrid might be the ticket.
American singer Adam Lambert, who found fame as a runner-up on American Idol in 2009, will be fronting the iconic British band Queen, who was most notably led by the late Freddie Mercury, on December 31 at Central Hall Westminster in London, England, reports RadioTimes.
Lambert has been touring with Queen members Brian May and Roger Taylor since 2012, through Europe and North America. They originally met in 2009 for a performance of "We Are the Champions" on American Idol.
The American Idol alum is chuffed about his New Year's plans:
London Calling

— ADAM LAMBERT (@adamlambert) November 30, 2014
Prior to working with Lambert, May and Taylor collaborated with Paul Rodgers, formerly of Bad Company, from 2004-2009. May talked to Rolling Stone magazine about teaming up with the American singer, saying, "This happened organically with Adam. People are going to ask whether it's Queen without Freddie. I don't know. We just want to go out there one more time. Adam isn't an imitator. We're going into new territory."
In regards to the upcoming show, Taylor is looking forward to the event, telling the RadioTimes, "I never imagined we would be around to usher in the year of 2015, what a thrill! We promise you a great night."
If you're going to be in London over the New Year, tickets go on sale tomorrow (December 2), with standing seats at £118.15 ($185.88), and balcony seats are £166.15 ($261.40). The ticket cost includes two drink vouchers.
The show will air on BBC1, with the broadcaster taking a break at midnight to air the firework show over the River Thames.
Lambert performed Queen's "Bohemian Rhapsody" in his AI audition:
Here he is with Queen rocking out on the X-Factor:
And, of course, we can't leave out Freddie. Here he is in all his greatness:
Is Adam Lambert doing Freddie Mercury proud?
See More: 
It's True! Ben Whishaw IS Playing Freddie Mercury
Happy Freddie Mercury's Birthday!
10 Famous British Moustaches
Read More
Filed Under: