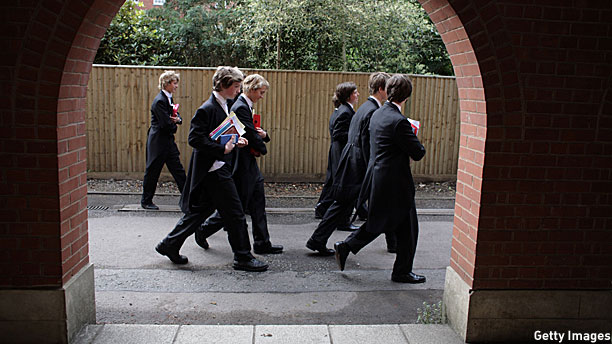 The English have a reputation for creating formidable educational establishments that take children at a young age, educate and nurture them, and then set them loose on the world, ready to take over. The schools in this list count among their former pupils heads of state, politicians, actors and pop stars, all of whom have been given the kind of jump-start in life you wouldn't wish upon your car unless it was in training to become a space shuttle.
As with any ancient establishment, they aren't without their traditions and quirks, as we shall see. But the important thing to note is that the term public school doesn't mean the same thing in the U.K. as it does in America.
In Britain there are state schools, run by the department of education, for which there are no fees; there are private schools, which are run as profit-making enterprises and may have some restrictions on entry based on religion or other qualifying characteristic; and then there are public schools. Public schools are fee-paying educational establishments that are subject to public management and do not restrict access. These are the blue chip establishments that British people think of when discussing privilege in general, and poshness in particular. Here are the top five.
Note: We've ranked these schools according to their appearance in the league table of results on Best Schools website for gaining A-level passes graded A or A*.
Winchester College
Winchester is the school with the longest run of unbroken education in British history, having been firmly in place for the last 600 years. All of the pupils are boarders, a tradition it shares solely with Eton, Harrow and Radley. The school was founded by William of Wykeham in 1382, at the same time as New College, Oxford. The idea was that Winchester boys would be prepared for Oxford (and Cambridge) entrance, and it is still considered to be an excellent "feeder" school for Oxbridge.
And if you thought college fraternities/sororities were hardcore, consider this: Winchester boys used to administer a Notions Test on their new pupils to see how quickly they had absorbed not just the traditions and history of the school and the houses within, but all the in-jokes and slang too. This practice was considered so stressful it was eventually banned under the European convention of human rights(!).
Former pupils are given the nickname Old Wykehamists, and their number includes various members of the Fiennes and Bonham Carter families, comedian Tim Booke-Taylor, the singer-songwriter Robyn Hitchcock, Avengers director Joss Whedon—it would probably not be too fanciful to suggest the inspiration for Buffy the Vampire Slayer's Rupert Giles and his love of ancient texts came from his time studying classics at Winchester—and Lord Alfred 'Bosie' Douglas, poet and companion of Oscar Wilde.
Westminster School
Officially known as The Royal College of St. Peter in Westminster, the school sits in the precincts of Westminster Abbey, an astonishingly central position, given how many of its former pupils end up in the Houses of Parliament around the corner. Current deputy Prime Minister Nick Clegg is a former pupil, as were seven British Prime Ministers, Ben Jonson, John Dryden, Christopher Wren, A. A. Milne, Peter Ustinov, and Tony Benn.
The school dates back to the 12th century, having been a Benedictine Abbey beforehand, with orders from Pope Alexander III to provide education for local children as an act of charity. Parts of the school's buildings date back to the 11th century, older than the current Abbey (in which the Duke and Duchess of Cambridge were married). By 1179 it became a public school, which in England means it's accessible to anyone providing they can pay all costs. There was a period of disruption from 1540 until 1560, where Henry VIII's dissolution of the monasteries interrupted this charitable education, although the school continued in a truncated form under a royal charter. It was formally 'founded' under the rule of Elizabeth I.
Currently Westminster plays host to around 750 pupils, only a quarter of which are week-day boarders. Also, past the age of 16, girls are admitted to study for their A-levels.
Eton College
Possibly the most famous British public school of all time, and the alma mater of the current British Prime Minister David Cameron (he's the 19th Old Etonian to hold that post), and Boris Johnson, Mayor of London. Not to mention the Duke of Cambridge and Prince Harry, Dominic West, and Hugh Laurie, among many others.
The school was founded by Henry VI in 1440, and has occupied a central place in the English establishment ever since, not least for its sporting excellence. The Duke of Wellington famously claimed that the Battle of Waterloo was won on the playing fields of Eton, at a time when sporting prowess and military heroism were almost indistinguishable. Not least in the Wall Game, a cross between soccer and a fight in a pub car park (now banned) that resulted in the death of a pupil in 1825.
The school uniform is worthy of mention. Introduced in the 1800s, it's a real Fred Astaire of a costume, comprising a starched collared shirt, white tie, waistcoat and striped trousers, set off with a tailcoat and top hat.
Here's a delightful musical tour of the premises:
One of the stranger traditions involved the whole school dressing in ceremonial clothing and assembling on a small mound called Salt Hill, where they would then commence collecting money from onlookers and passers-by, much as a charity worker or busker might do today. But it wasn't for charitable purposes, it was to pay the head boy's expenses when he got to Cambridge. This practice, known as Montem, lasted until 1844.
Harrow School
Harrow School sits within the town of Harrow in north-west London, on a site that has been a seat of learning since 1243. The school was formally founded in 1572 by John Lyon, under a Royal Charter from Elizabeth I. Lyon died in 1592, leaving his estate to the school and the maintenance of a road to London. The first school building was built in 1615 and still exists, with the school taking such an active role in the upkeep of the London road that pupils run its 10 mile length every November, in an event called "Long Ducker."
The uniform is similarly eccentric to that of Eton: as well as the white shirt, black silk tie, grey trousers and dark blue jacket, there's the Harrow Hat. Not quite a boater, but a similar idea, being made from varnished straw with a dark blue ribbon. The hats are required to be worn between all lessons, and should a pupil meet a teacher on a public road, they must raise a forefinger to the brim of their hat as a mark of respect, or risk punishment. The Sunday dress uniform involves morning suits, with top hats and canes for monitors.
To date, Harrow has educated two British Kings and eight Prime Ministers, including Winston Churchill, who was a notoriously poor student and had already been to two schools by the time he arrived. Other celebrated Old Harrovians include: Richard Curtis, Sir John Mortimer, Anthony Trollope, Benedict Cumberbatch, Cary Elwes, James Blunt and Chris Blackwell, the founder of Island Records.
In 1941, during the most challenging days of World War II, Churchill paid a visit to Harrow to address pupils, giving a speech that effectively exhorts the whole country to "never give in. Never, never, never."
Benedict credits his school with channeling his excess energy into the performing arts, particularly when it became clear that his future was not an academic one: "I did sort of blow my GCSEs out of the water. I couldn't believe it and neither could my teachers. And then there was a lot of pressure on me to achieve an Oxbridge level of brilliance at A-levels."
Oh, and one last fact: Harrow boys invented squash.
Wellington College
The only school in this list that is not named after the place in which it was built, Wellington sits in Crowthorne, Berkshire, and was built as a tribute to the Duke of Wellington, and had a duty to educate the children of officers who had died in the line of duty. This was amended in 2006 to include children of any rank in the British Armed Forces. Queen Victoria laid the foundation stone in 1856, with the school opening three years later.
Wellington was one of the first of the grand old British public schools to introduce female pupils at any age, and has a reputation for progressive thought, including the introduction of "happiness lessons" in 2006, to combat complaints about bullying on school grounds. The grounds of the school are also big enough to encompass a full sized golf course, and Wellington was instrumental in the development of Rugby Union—the upper-crust version of Rugby (as invented in Rugby School) as opposed to the working class Rugby League.
Notable Old Wellingtonians include the Formula 1 driver James Hunt, satirist and comedian Rory Bremner, Count Nikolai Tolstoy, Sir Christopher Lee, Sebastian Faulks and George Orwell (who enrolled under his real name: Eric Blair, and then left to go to Eton instead).
See more:
5 Things Only A British School Kid Would Know
British Schoolboys Beat Peter Jackson To Release 'The Hobbit'
Top British Girls' Private School Teaches Students How To Fail
5 British Actresses Who Were Child Stars
Read More
Filed Under: