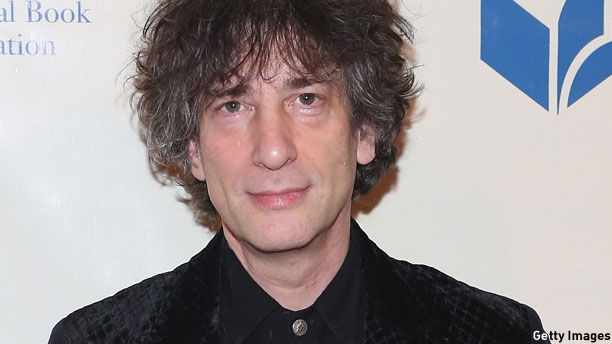 There's a lovely interview on the Radio Times site with Neil Gaiman, in which he discusses the long-mooted movie adaptation of his breakthrough Sandman comic book series, which appears to be slowly taking shape.
David S Goyer (Man of Steel) is on board to produce, working with Neil and Joseph Gordon-Levitt, from a script by Jack Thorne (The Fades), which retells the story of Dream, or Morpheus, the cloudy entity with the gaunt features who presides over the domain of dreams.
And of course it's the casting of this role which will prove to be key in making any eventual movie a success. Neil has some ideas, and the funny thing is, they're probably exactly the same ideas that any Anglophenia reader would come up with, specifically with reference to a certain Mr. Cumberbatch, without whose name no Hollywood casting sheet is complete.
He said: "There was a time Johnny Depp would've been a great Morpheus, but now he's too old and it's fine. I think the first time I saw Benedict was as Sherlock Holmes, I thought, 'wow, that's incredibly Morpheus'. And fans probably thought the same because they immediately started doing fan-art, meshing the two of them up.
"Then again, Tom Hiddleston is still out there! And the truth is, as far as I'm concerned, anybody who sounds English with great cheekbones can probably pull it off."
And that's a fairly good working template for the appeal of a certain kind of British actor right now, isn't it? Substitute British for English (to allow for regional variations) and you've basically described 80% of the theatrical hot streak that is dominating Hollywood at the moment (and a good proportion of our own fan favorites too). Garfield? Check. Cavill? Check. Heughan? Oh rather!
And whoever gets the part, you can be sure it'll be with the express approval of the man who created it in the first place.
He explained the lengths he's had to go to just to keep rotten scripts from making it to the screen:
"My position on it has always been, for over 25 years now, I would rather see no Sandman movie than a bad Sandman movie. A couple of times, people say, 'It's a crime there's never been a Sandman movie', and a couple of times, to be honest, I have thrown my body in front of a bus on a couple of bad ones over the years. I'm just happy that no bad Sandman movie has ever been made. But I'm really hoping that a good one will be."
Let's see what happens next, shall we?
See more:
First Listen: Neil Gaiman and Terry Pratchett's 'Good Omens' Radio Drama
Neil Gaiman: "There Are No Bad Authors For Children"
WATCH: Neil Gaiman Introduces His "Silliest, Strangest" Book Yet
WATCH: Neil Gaiman Reveals His Favorite 'Doctor Who' Moments of 2011
Read More
Filed Under: