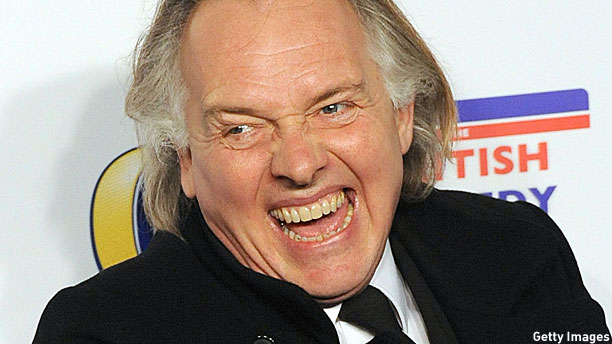 Gathering together a list of those people we lost over the past year is never a pleasant task. The shocking realization that, say, Rik Mayall or Bob Hoskins will be making no more public appearances is quite a hard one to process, especially as so many of the people in this group could easily take their place on any list of British national treasures.
By which I mean it may hurt that they're no longer around, but my word, weren't they spectacular?
Sir Richard Attenborough
Whether as the deluded theme park creator who brought back the dinosaurs in Jurassic Park, or the vicious Pinkie in Brighton Rock (see clip, with original Doctor Who star William Hartnell), Sir Richard's career would have been sparkling enough even if he hadn't stepped behind the camera to create such cinematic delights as Ghandi, Chaplin and Cry Freedom. And that's before you factor in a lifetime of charitable work and activism, particularly for the anti-apartheid movement. He died in August at age 90.
See more: Five of Richard Attenborough's Best Movies
Sue Townsend
Sue Townsend, who died in April at age 68, deserves to be remembered for many things; as a novelist and a playwright, she had a strong comic touch and an eye for satirical truth that could sting and cuddle at the same time. But it's the creation of the superbly clueless and pompous Adrian Mole—starting with his secret diaries from the age of 13¾ onwards—that will be her greatest legacy. Eight volumes chart his growth from boy to man to would-be TV chef, the first two of which made her the best-selling novelist of the 1980s.
See more: RIP Sue Townsend
Bob Hoskins
By the time he died of pneumonia in April at age 71, Bob Hoskins had already retired from stage and screen. He was diagnosed with Parkinson's in 2012 and had elected to bow out on top, after recent triumphs such as Made in Dagenham, and spend time with his family. And this felt like a tragedy in itself, given the many wonders in his movie resume, from the larkish Who Framed Roger Rabbit to the hard-boiled The Long Good Friday, from the elegantly scuffed Mona Lisa to the deliberately hammy Hook.
See more: Five worthy roles played by Bob Hoskins
P.D. James
An author that works within the confines of genre can run the risk of becoming celebrated within that one small field and unknown outside. Not so with P.D. James, who died in November, aged 94. She wrote more than 20 books, many of which featured her principal sleuth Adam Dalgliesh, which sold in the millions. She also created the Jane Austen spin-off Death Comes To Pemberley, which takes place in the same community as Pride and Prejudice.
See more: Jenna Coleman in Death Comes To Pemberley on PBS.
Rik Mayall
The clown prince of British comedy and a standard bearer for the wave of alternative comedians that arrived amid the cultural upheaval of punk rock, Rik Mayall's death hit particularly hard as he always seemed to wear a surfeit of life on his shoulders like an ermine cloak. It was there from his earliest successes—The Young Ones, Kevin Turvey Investigates—through to his latter moments of utter (utter utter) slapstick violence and filth, whether in Bottom or Blackadder or his last hurrah, Man Down.
And while we're discussing Blackadder, a moment's pause for Patsy Byrne, who played Nursey in that same scene. She died in June at age 80.
See more: Rik Mayall, his greatest roles.
Kate O'Mara
Some actors are not cut out to play purity or innocence. And the career of Kate O'Mara, who died in March, proves that this does not necessarily have to be a handicap. Whether sneering her way across the screen as Caress Morrell in Dynasty or giving the Doctor her best death stare as the Rani in Doctor Who, it was her ability to play characters that were slightly immoral, ready with a dark plan and utterly without mercy that kept her in gainful employment, so she was the perfect choice to play, for example, Patsy Stone's evil sister in Absolutely Fabulous.
See more: Five of Kate O'Mara's most notable roles
Ian McLagan
The most recent loss on our list. As keyboard player with the Small Faces, Ian's magical fingers gave life and muscle to some of the best pop songs of the '60s, and he went on to give Rod Stewart the same support, first in the Faces and then solo. Always in demand, he played with everyone from Bob Dylan to Chuck Berry, Bruce Springsteen to Billy Bragg, AND you can hear him all over "Miss You" by the Rolling Stones.
See more: Five of his best songs.
Lynda Bellingham
Probably best known to Doctor Who fans as the presiding Gallifreyan judge in the Sixth Doctor's series-long story arc "Trial of a Time Lord," Lynda Bellingham (who died in October) was a much-loved character actress and a household name to most Brits. She appeared in dramas and sitcoms throughout her long and varied career, always flashing a cheeky smile to all comers. However, in one of those strange quirks of showbiz, she'll always be remembered most fondly as the mum in a long-running series of TV commercials for Oxo stock cubes. That's not meant to be a dig, as those ads were hugely popular.
Acker Bilk
The '60s were not just a time for British beat groups to rise up and take over the pop world. There was a strong and healthy jazz scene going on as well. And a good deal of the musicians involved were so rattled by the innovations in the form ushered in by bebop that they formed groups loyal to the traditional sounds of Louis Armstrong, ragtime and Dixieland. The "Trad Jazz" boom was inescapably popular throughout the '50s and '60s and carved a popular career for people like Acker Bilk, the only solo clarinettist to nab a U.S. No. 1 single, with 1961's "Stranger on the Shore." The song was later taken on a cassette to the moon and back with the Apollo 10 space mission.
Warren Clarke
If Kate O'Mara's face was made for cruelty, Warren Clarke's was perfectly cast to be a lowbrow thug. And his most controversial role—as the brutish Dim in Stanley Kubrick's A Clockwork Orange—made full use of his Neanderthal brow. And he was best known as the plain-speaking, no-nonsense detective Dalziel (pronounced Dee-ell) in the police series Dalziel and Pascoe. Another character who preferred to settle things using force, rather than subtlety.
Alvin Stardust
Alvin Stardust was not the first nomme du rock tried out by Bernard Jewry. He spent a good portion of the '60s trying to make his mark as Shane Fenton (and his Fentones), a name given to him by the mother of the real Shane, who had died just as his band were being offered their first radio session. But it wasn't until David Bowie and Marc Bolan kicked off the glam rock era—around 1972—that he found his niche. As the leather clad Alvin (note: NOT the brother of Ziggy), he began a run of hits with "My Coo Ca Choo," a strange cross between Buddy Holly and "Spirit in the Sky" star Norman Greenbaum. Always a '50s rocker at heart, he branched out into musical theater and TV work, but never quite got around to hanging up the leathers for good.
Jack Bruce
Bass players were never meant to get the attention. Paul McCartney used to grumble that he got lumbered with the bass because his fellow guitarists refused to play it, feeling that it was the instrument for anonymous fat guys at the back of the band. Jack Bruce, who died of liver disease in October, was neither fat nor anonymous, and he could play the bass like a demon and sing like an angel. Best known for the short years during which he, Eric Clapton and Ginger Baker turned everything up to eleven in Cream, his was a long and kaleidoscopic career, taking in proto-metal, blues, jazz, rock and seemingly anything else that took his fancy.
See more: Jack Bruce, the cream of Cream
Robert Young
Primal Scream are a British band who embraced the rock 'n' roll lifestyle second hand, by reading about what bands did, watching them perform, listening to as many varied records as they could get their hands on, and trying things out for themselves. Robert "Throb" Young was the band's most classic classicist. Even during the years when the band were borne aloft by acid house and electronica—around 1990's album Screamadelica, Throb would be the one who refused to have his hair cut or remove his leather trousers and kept blamming out those wailing Stones licks on his trusty Gibson Les Paul. Having left the band in 2006 for personal reasons, he died in September at age 49.
Sir Donald Sinden
Donald Sinden, who died in September at age 90, was the model of a particular kind of English actor. One blessed with a particular form of diction, a kind of bellowed hiss or aspirant moo that lends itself particularly well to long Shakespearean speeches in pre-microphone theaters. This made him a natural for movie thrillers, like The Day of the Jackal and The Cruel Sea, but he also had a gift for comedy, lampooning his own haughty image in the sitcom Never The Twain, or arching his eyebrows in the ribald hospital comedy Doctor at Large.
Roger Lloyd-Pack
To have one iconic role in a British sitcom would be seen by most actors as the ultimate good fortune. Roger Lloyd-Pack had two: the hapless and dim Trigger in Only Fools and Horses and the disgusting farmer Owen in The Vicar of Dibley. And he brought the Cybermen into the modern era in the Doctor Who story Rise of the Cybermen. But it's this moment from Only Fools that people most readily associate with him, not least because it is often voted a favorite moment in British comedy history:
See more: Roger Lloyd Pack's five greatest roles
See also:
In Memoriam: The Brits We Lost in 2013
Read More
Filed Under: