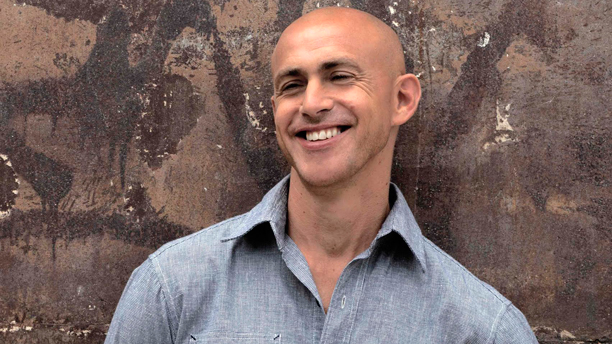 The dream of less stress, better sleep and more time to concentrate on the important things in life has universal appeal, but mention "meditation" and many people think of a bald monk in orange robes sitting with his eyes closed and contemplating the world. Who has that kind of time these days? Isn't there an app for that?
British-born Andy Puddicombe can answer that question: he was a monk for nearly a decade, and now advocates for spending just 10 minutes a day of your time using the Headspace app. "It's meditation for people who don't really do meditation; it's de-mystified and made more accessible for modern, everyday living."
As the co-owner and "face and voice" of the 2010 start-up, he writes books and travels the world talking about meditation and Headspace, a digital health platform which he calls "a gym membership for the mind." Oh, and he spent time with the Moscow State Circus too.
Finally back home in Venice, California, after three straight weeks of traveling, Puddicombe jumped on the phone to talk to Mind The Gap about his unusual career path and how it led to a very eventful first year or so in the U.S.
He grew up in Keynsham, a small town in the South-West of England, and went to University to study Sports Science, but after witnessing a car accident in which a couple of his friends died, he felt he was struggling. "It left me with a feeling that there must be more to life than this," he said, and "I felt like I had no choice but to dig deeper."
His mother had introduced him to the practice of meditation when he was 11-years-old, but his family was still concerned when he said he was going to travel to the Himalayas. "They didn't know how long I was going to go away, and some of them worried I was joining a cult, but mum was really very proud and enthusiastic, even if, like a mother, she was worried about me traveling to the other side of the world."
He trained as a lay person for a number of years before becoming a novice and then being ordained on what he calls his "little journey," but it was after he arrived in Russia in 1999 that things changed and led him to where he is today. He was teaching meditation in Moscow, and "met a chap who loved what I was doing, though he said a bald headed guy in a skirt was quite an obstacle to people in the West."
The connection between meditation and Buddhism was a strong one in many people's minds, and Puddicombe says that "it made me think. Was I passionate about being a monk, or teaching meditation? That was an easy decision, and I gave up my robes and planned to move back to the U.K."
There were six months to go before that move though, and Puddicombe recalls how he met a friend who was studying with the noted Moscow State Circus.
"I had competed in gymnastics before I became a monk, but for years I'd spent a lot of time sitting on my bum with my eyes closed," he says with a laugh, "and I thought it would be a useful transition in getting engaged with life again."
When he and co-founder Richard Pierson ("the brains of Headspace") first discussed the idea, they were clear on several things: this wasn't going to be a "New Age" approach with bird sounds, waterfalls or panpipe music, they were going to have a Chief Medical Officer and science research staff to keep up with developments in all areas of the field, and that Andy wasn't going to be packaged as a kind of cheesy, "1980's self-improvement guru."
"I did train as a Buddhist Monk, and I know that all these exercises and techniques have been around many hundreds or even thousands of years, but we were determined to deliver them in a modern, feet-on-the-ground way. This is more about health and perspective, and we wanted to make it come across as if we were talking about meditation to our mates in the pub, but without making them burst into laughter."
Their home country was actually their perfect testing ground, Puddicombe says. "We thought that if we could make this work in the U.K., the most skeptical and cynical place there is, we could make it anywhere."
The Headspace app features a guided meditation – the voice being Andy's – and the "Take 10," which asks for only 10 minutes out of your day to try and train your mind to be less distracted and overwhelmed "for a more full, satisfying life," says Puddicombe.
There are guided exercises, regular updates, video, animation and podcasts, but Puddicombe says that for new users, simply sitting in silence can be too big a challenge. Perhaps that helps to explain why around 2 million people have downloaded the free app, and Puddicombe says he was amazed when his first book sold was translated and sold well in India, Japan and Korea.
"With their traditions I didn't think they'd even consider a new, Western-based approach," he said, "but of course there's a new generation of kids out there. I think it says something about the human condition too, because wherever I have gone in the world, people have been open to the idea."
Around 18 months ago, Puddicombe and his wife Lucinda (plus a number of fellow Brits working for Headspace) moved to Venice and opened a second office there. "We see ourselves more as a company working as an interplay between content, entertainment, creative and technology, and Venice in particular is a sort of meeting point," says Puddicombe, mentioning how their office is behind Google and that Snapchat, YouTube, Zephyr and other digital companies are in the area."
He can't help but adding a personal thing too. "I can surf before coming to work in the morning!" he laughs, saying that he finds Venice is its own little community, and that it reminds him a little of east London. "It has a slightly European feel," he says. "There are coffee shops, people walk and cycle everywhere, there are lots of hipsters, and we live right on the ocean."
Headspace has 30 employees in Venice covering the creative and technical side, while 10 remain in London overseeing science, research, corporate and customer service. "We imported a lot of U.K. HR practices, so we really encourage people to take vacations, take time off for pregnancy, and take time off over Christmas and the New Year. The work ethic here is staggering—I can't really relate to it!"
Heavy travel aside, Puddicombe doesn't have anything like a typical day: he's either writing books or content, recording in the studio, presenting on TV shows, conferences, or corporate events. "Part of getting people excited about meditation is going out and talking about it, and finding out what people's motivations are," he says, "and Americans have an incredibly positive and optimistic attitude – an underlying ideal that anything's possible."
The move to the U.S. wasn't without its challenges though, and Puddicombe had what he called a "triple whammy" just a few months after arriving, and—as many new Brits find—it related to the complex world of US health insurance. "On arriving in America I found that my health insurance didn't kick in for six weeks – and five weeks after arriving I was diagnosed with an aggressive form of testicular cancer. I had to have an operation immediately, and it wasn't covered."
Luckily Puddicombe is now clear of the condition, but for the help of some kind friends and family, he wondered how he and Lucinda would have managed. "There were days where I was really struggling, and then there were questions about fertility etc. Those were really challenging conversations."
Then, about three months after the operations, Lucinda got pregnant with their son Harley, who is three months old. "It's an old English name, not anything to do with the bike! Lucinda's English, and she's very keen on English traditions."
Expressing disbelief at how people could manage without insurance in the U.S., Puddicombe confessed that earlier that day he had spent two hours on the phone with the insurance company. "It still affects us on a weekly basis, as we still get bills for either the pregnancy or the cancer. It was a steep learning curve."
This year will be their first Christmas in California, and Puddicombe was shocked to learn that Boxing Day doesn't exist here. Despite being a seasoned air traveler, he's "in two minds" about whether it's worth making the journey home to the UK for the holidays either.
"My years of monastic training and meditation are essential for all the travelling I do—I couldn't survive without it," he says. "It's so hectic, so expensive, and we'll have to drive all over the country when we get there, and for Harley it might be too much, too soon," he thinks, and it seems a week in Baja or Ojai might be their alternative.
Andy mentions the one thing he never travels without. "It's a mala, a set of meditation beads that were given to me by one of my teachers when I was ordained as a monk out in the Himalayas," he recalls. "It's used to count your repetitions, and I use it every day."
He doesn't miss the U.K. much—aside from friends and family—but when pushed, he does admit that he thinks there's too much sugar in American dark chocolate. He also had some advice for people thinking of following in his footsteps: "Just because we share the same language, doesn't mean we share the same culture."
As for the future, he has a book deadline at the end of February, "which I haven't begun yet, so I'm about to start a three month sprint on that," and also there is Headspace for kids, a pilot program that has started in schools in Seattle, Los Angeles and Chicago. "It's not an app at this stage – the plan is that it's for parents to use at a later stage for this pilot—but right now it's more exploratory, to understand what works with different age groups and what's beneficial in a school context."
Do you have any takeaways from this profile? 
Read More
Filed Under: