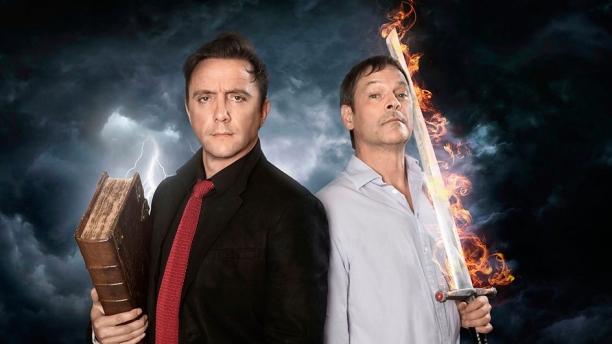 Here's a lovely belated Christmas present: now that BBC Radio 4's adaptation of the classic Terry Pratchett and Neil Gaiman comedy novel Good Omens has finished its seasonal broadcast run, the entire series is now available to stream for free on the BBC iPlayer website!
Good Omens was first published in 1990, and tells the story of the Apocalypse in a world where the Antichrist inadvertently ends up growing up in a sleepy English countryside village. Written after Pratchett had begun his successful Discworld series but before Gaiman found fame as a bestselling novelist in his own right, it became a cult hit, but several attempts to make it into either a movie or TV series have faltered in the years since. As such, this radio adaptation — scripted, produced and directed by Dirk Maggs, of Hitchhiker's Guide to the Galaxy and Neverwhere fame — is the first time it's ever made it into another medium.
The radio production stars Peter Serafinowicz (Star Wars, Shaun of the Dead) and Mark Heap (Green Wing, Spaced) in the roles of Crowley and Aziraphale, a demon and angel respectively who make it their shared duty to try and avert the forthcoming end of the world. The supporting cast, meanwhile, is filled out with a veritable who's who of British acting and comedy talent, including Sherlock's Louise Brealey, Merlin star Colin Morgan, Paterson Joseph, Phil Davis, Josie Lawrence, Harry Lloyd, and even the voice of the Daleks himself, Nicholas Briggs. And there's also room in the first episode for a special cameo from the authors themselves.
All six thirty-minute episodes can be found at iPlayer Radio, where they'll be available for the next three to four weeks. There are no regional restrictions, either, so you can listen to them no matter where you are in the world. Just try not to have nightmares…
See more:
LISTEN: First Extracts From Neil Gaiman & Terry Pratchett's 'Good Omens'
Neil Gaiman Cracks the Code for British Leading Men
Poll Results! 10 Greatest British Sci-Fi/Fantasy Novelists
Read More
Filed Under: