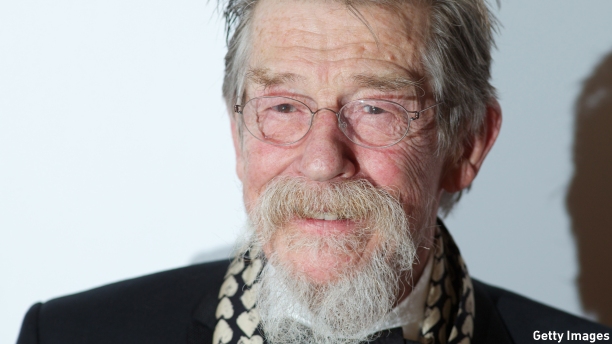 Our congratulations go to two of the U.K.'s most beloved acting luminaries, as John Hurt and Kristin Scott Thomas have been made a knight and a dame respectively in the Queen's 2015 New Year's Honours List.
A twice-yearly tradition, the Queen's honors are handed out at the beginning and halfway points of the year (the latter being known as the Birthday Honours), and are intended to recognize significant contributions across all walks of British life — from entertainment and culture to charitable and social endeavors. Sir John and Dame Kristin, as we're now obliged to refer to them, have both been given their awards for "services to drama."
Hurt has had an incredibly fruitful, fifty-year-plus career in film and television, with highlights including his performances as John Merrick in The Elephant Man in 1980 (which scored him a BAFTA award along with Golden Globe and Oscar nominations), the lead role in Nineteen Eighty-Four, and another BAFTA-winning portrayal as Quentin Crisp in the TV drama The Naked Civil Servant. These roles established him as one of the country's most accomplished actors, but he's also shown a willingness to play a diverse range of genre roles, including in such films as Alien, Harry Potter (as the wand-maker Ollivander), Midnight Express and V For Vendetta. Most recently, of course, he attracted acclaim for his role as The War Doctor in the Doctor Who anniversary special "The Day of the Doctor", making him the first ever incarnation of the Time Lord to be awarded a knighthood (although other knights to have appeared in the show include Sir Derek Jacobi and Sir Ian McKellen).
"I thought someone was playing a trick," said Scott Thomas. "But it's true apparently, and I am thrilled, astonished and worried that I might suddenly wake up." The actress is perhaps best known for her movie roles in Four Weddings and a Funeral and The English Patient, the latter of which saw her nominated for a Best Actress Oscar. Other acclaimed turns have included Gosford Park and Nowhere Boy, and she has had an extensive and successful stage career. Indeed, she's actually due to play Queen Elizabeth II herself in a new West End production of The Audience next Spring, which should make for an interesting topic of conversation when she picks up the award from Her Majesty…
Elsewhere in the list, actress Joan Collins is also made a Dame in recognition of her charitable work; and Carol Ann Duffy, the U.K.'s first female Poet Laureate, receives the award for services to poetry. There are OBE (Officer of the British Empire) awards for actors James Corden and Sheridan Smith, and a CBE (Commander of the British Empire) for author and actress Meera Syal.
 The New Year's Honours List 2015 in full
See more:
Daniel Day-Lewis, Maggie Smith and John Barrowman Honored by the Queen
Ten Great Britons Who Declined The Honours List
Personality Quiz: Which Famous British 'Sir' Are You?
Read More
Filed Under: