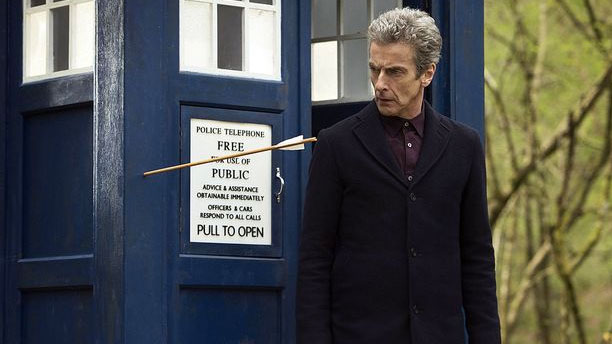 It's taken a while to process who the Twelfth Doctor believes himself to be, after his predecessor spent such a long time being an old man in a young man's body. Twelve has the air of a man who has realized that no one will ever be able to catch up on the things he has seen, so there's little point in them trying.
This can make him seem a little cold—despite being capable of enormous generosity of spirit—an impression that is reinforced by his dry sense of humor and undertaker's countenance. The Doctor has always been more interested in his own opinions than the things going on around him, but Twelve can come across like a tetchy old science teacher who refuses to acknowledge modern life, while still having that mad twinkle of youth buried deep in those sharp eyes.
All of this plays out in his choice of clothing. Simply put, his wardrobe has taken a journey into darkness, being a combination of navy and black items with one or two colorful additions, and even those are often muted.
That's not to say he isn't as flamboyant as his previous incarnations in his own way. It's just that dignity is a larger part of his wardrobe than perhaps it was during the fez years.
Here's how it breaks down in dressing-up terms.
1: Hair – a short shock of grey, shot through with darkness and light. Twelve's grave pallor comes partly from the stark monochrome of his hair and that parchment skin. And then there are the darker "attack eyebrows" framing hawkish eyes that see every tiny detail. Get the eyes and hair right, and you're at least 50% of the way there.
2: Jacket – a three-button jacket cut shorter than a frock coat but longer than Eleven's tweed jacket, in navy (sometimes black), but with a few mod touches, as would befit someone with clear memories of punk rock, skinheads and working class British youth culture in general. The Doctor's coat has that blazing red lining that suggests all of the dark hues are a definite aesthetic choice, not a lack of imagination in the hue department. Also, he tends to fasten the top button only, so it'll swish open when he sticks his hands in his pockets.
3: Top – here's where you have some choices. There's the buttoned-up white shirt with long collars (and optional navy waistcoat), the buttoned-up plum shirt, the buttoned-up charcoal grey shirt, the black sweater, the black sweater with holes in or the black sweater with a hood. Here's where the Doctor proves that he's a man of immaculate style and that he's aiming for a definite look.
4: Trousers – black and lightly pleated, but very slim fit. Mods would recognize the Doctor's choice of legwear as a variant of Sta Press trouser. Sharply cut to minimize any suggestion of youthful slovenliness.
5: Boots – not actually Doctor Martens, but close enough that any cosplayer would be fine with a pair. They need to be black and polished to a high sheen though, as befits the Doctor's meticulous nature.
6: Accessories – minimal. There are no ties—unless you're wearing the wing-tip white shirt the Doctor wore in "Deep Breath"—and no brooches or jewelry. This is a man who wishes you to know that despite being unwilling to transmit his quirks and eccentricities from a first glance, that does not mean he lacks standards.
See more:
'Doctor Who' Cosplay: How to Dress Like Missy
Quick Cosplay Guide to the Doctors of 'Doctor Who'
'Sherlock' Cosplay: How To Dress Like Sherlock
'Doctor Who' Cosplay: How To Dress Like Clara Oswald (Updated)
Read More
Filed Under: