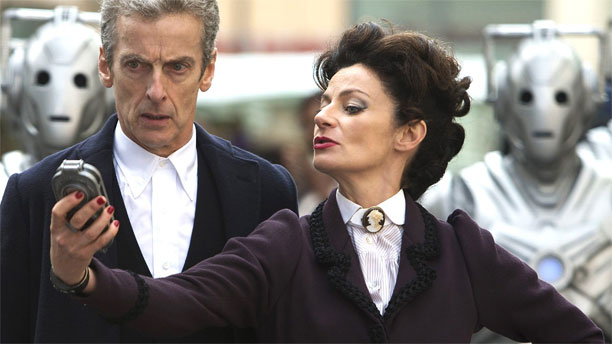 One of the best things about the arrival of Michelle Gomez as Missy in Doctor Who is there's another character with a totally identifiable look that you could spot from a mile off. Granted, that look is a variant on someone else's identifiable look (she's like a scary Mary Poppins, or Scary Poppins), but if you can get the color scheme right there are enough differences to prevent any unpleasant mixups between carpetbag-carrying magical governesses and unhinged Time Lords.
1. Hair — it's an up-do, very on-trend if you're a follower of the head-stylings of the Duchess of Cambridge, although Missy's hair is more governess than princess, and it's all to facilitate one of those flat little black hats Victorian women used to hold in place with a pin (see Accessories, below). There's no bun as such, the hair has to still be essentially wild and free, but held in place until the time is right to be let loose, just like its owner.
2. Blouse — again, this is all Victorian, so one of those starched collar affairs with puffed shoulders in white with a pink vertical pinstripe if you can get it. Think Downton Abbey, only more murderous.
3. Jacket — the classic Missy outfit, as seen here, is a skirt suit in plum (although earlier Missy spottings had her appear in a bottle green version). Again, puffed up at the shoulders, and cut to a suitably frock coatish length with deeper purple/black trim, particularly noticeable on the lapels. Leave pocket room for weapons of mass destruction.
4. Skirt — of the same material as the jacket, high waisted and cut to ankle length (with trim), so as to make a feature of the boots.
5. Boots — black ankle boots with a sharp toe and a tapered heel. The short of shoe that leaves the impression that the person you are looking at could not only walk all over you, but it would leave marks if she did.
6. Accessories — if you can't run to one of those zapper devices like Missy's, you should at least be able to get hold of a decent umbrella, of the sort that has a long wooden handle, not a collapsable metal one.
Then there's the hat, an all black boater with an arrangement of black and red berries on the brim and a little bit of a black veil over the top. To be worn at a rakish angle.
Also, the cameo brooch that always resides at Missy's throat (would that be the Time Lady's equivalent to those pocket watches, perhaps? Let's see, shall we?) and her lipstick—blood red, to be applied with relish—are two key elements.
Red nail varnish too, she has blood on her hands, after all.
After that, it is all about posture. Missy is a small and cruel little girl trapped in the body of a grown woman. So she is prone to throwing dramatic ballet shapes, coquettish gasps and asides, and then beaming proudly at her own cleverness. So any prospective Missy-alikes need to strut and preen and pose all the time, as if you're constantly on a red carpet. Just don't think too much about why that carpet may be red in the first place.
See more:
'Doctor Who' And The Eleven Archaic Wardrobe Choices
How To Dress Like Clara Oswin Oswald
How To Dress Like The Eleventh Doctor
The Brits and Cross-Dressing: A History
Read More
Filed Under: