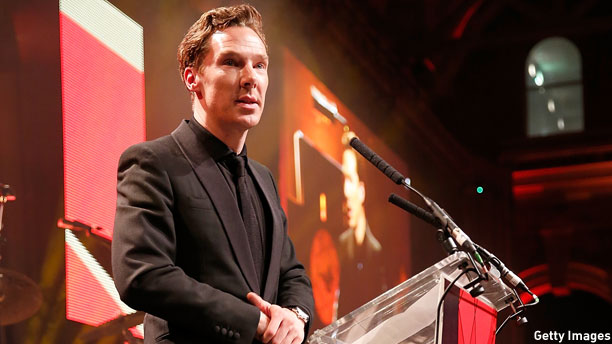 Last night (December 7) Benedict Cumberbatch was honored with the Variety Award at the 2014 British Independent Film Awards. The commendation was given because his skyrocketing success has helped to "focus the international spotlight on the U.K." (although if that's the only criterion, surely certain Anglophile blogs should have been up there with him?) and his acceptance speech was a hearty pat on the back for everyone involved in British filmmaking, no matter how humble their role may appear as the credits roll.
He said: "I love my industry, I love the people I get to work with, a lot of whom are in this room, I love the communities and the families that each job brings together, and I love how proud we can all be in taking stock of moments like this, and how proud we can be as filmmakers in the UK who in spite, or maybe because of not having a studio system, is a world leader."
"And it's not just the people in this room we should be celebrating, it's the armies of craftsmen who are the envy of the world and keep the world coming back for more business here. Chippies, electricians, riggers, drivers, security men, location scouts and managers, costume assistants, runners and camera and sound crews, casting directors, a few of whom are here tonight, and thank you very much for my career, costume assistants… I've said that already, but they really are amazing, they do the worst hours of any of us and do deserve a shout out, even if it's twice, in the same speech… yes, and even our caterers deserve a shout out.
"So no matter how lonely or scared or 'independent' I feel standing up here, there are legions of people who supported me to a point where I can just get up in the morning and do my job."
And he ended on a rousing note:
"All of us as freelance artists and filmmakers crave autonomy, and to be indepedent and free from outside controls, anything that makes us dependent on politics or money or an outside authority. For me some of the most exciting moments in cinema are always when the odds are against you and authenticity is still achieved, the work triumphs in a spirit of independence. I'm thrilled to have had my success in some of the Goliaths of the film industry, and I'm very happy with some of what you've seen tonight, but I owe coming into that sphere to the Davids of this world… in that overstretched analogy. Congratulations to everyone here, and happy Christmas."
Fittingly for a night that featured such a self-effacing speech, Benedict's Sherlock co-star Andrew Scott also won an award last night, picking up the supporting actor trophy for his performance in Pride, a drama about British politics and the miner's strike in the 1980s. Pride also secured a supporting actress win for Imelda Staunton, and won best British film.
There is a video of the whole speech, taken from a cameraphone in the upper circle, where you get to see just how flustered Benedict is:

See more:
Confirmed: Benedict Will Play 'Doctor Strange'
It's Not Benedict's Voice in the 'Star Wars' Trailer, It's Andy Serkis
Is Benedict Cumberbatch Romantic Lead Material?
WATCH: Benedict's Tom Hiddleston Impersonation
Read More
Filed Under: