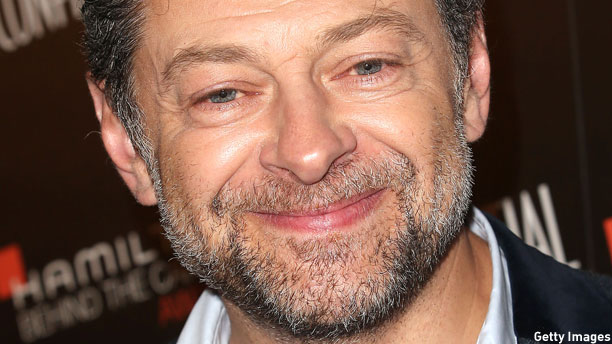 It seems to be an unwritten rule of movie fandom these days. If you can't see Benedict Cumberbatch in the cast list of an exciting new movie, but there is any kind of mystery around one of the characters, people will immediately start to conjecture that it's him.
Take the current trailer for Star Wars: The Force Awakens, in which a tall hooded figure (Benedict?) walks into a frozen forest with his back to the camera (is that Benedict?) and ignites a lightsaber with a red blade (it IS! It's BENEDICT!) and red finger-guard spikes (BENEDICT!) while an impossibly deep and rasping voice (BENEDICT! BENEDICT!) says something about the Force (OMG IT IS TOTALLY BENEDICT I MAY DIE!).
https://www.youtube.com/watch?v=pMCcOt9zfro
The sad news is, while the identity of the hooded figure has not been confirmed (which means it could, in theory, be Benedict, yes?), the owner of that voice has come forward, and it's Andy Serkis.
He spoke to the Huffington Post UK about the moment he found out that J.J. Abrams had decided to trail the most anticipated movie on next year's schedules with his voice: "JJ said, 'Andy, your voice is in the trailer,' and I just thought, 'that's great,'
"Of course, I knew everybody was waiting for the trailer, but somehow I didn't really connect the two. It is amazing to be part of, and he's made such an incredible job of it, and honouring the original."
As for the idea that it might be Benedict (is it Benedict?), Andy is nothing if not magnanimous: "I'm rather glad he can take some of the glory. He needs a little bit of help at the moment."
UPDATE: Benedict Cumberbatch (it really is Benedict!) has also confirmed that he's not in the trailer. Or the movie at all: "I am not the voice of the Star Wars trailer, nor am I the hooded character with the rather cool new lightsaber," he told Radio Times.
Watch the interview at the end of this clip:
Star Wars: The Force Awakens is due for release in December 2015.
See more:
First Look: Daisy Ridley and John Boyega in 'Star Wars: The Force Awakens'
WATCH: Warwick Davis' 'Star Wars' Announcement
'Star Wars' Day Personality Quiz: Which Non-Human Character Are You?
The Unfamous Five: British Actors You Never Saw In 'Star Wars'
Read More
Filed Under: