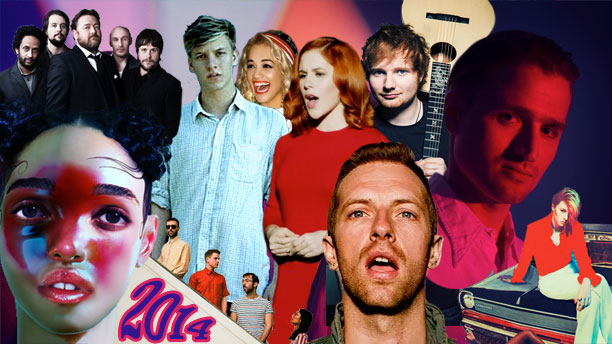 Sam Smith replaced Adele as the face of British music this year, with the concurrent Billboard top 10s and multiple Grammy nominations to show for it. But there were many other U.K. musicians who deserved a bit of time in the spotlight, and that's where this list comes in. Here are the tracks from a diverse array of British recording artists who've been in heavy rotation on the playlists of Anglophenia staff this year.
25. "Complete Surrender" by Slow Club
Stumbling upon this intoxicating '60s throwback on a Spotify playlist was one of this year's unexpected pleasures, with its chirping girl-group backing vocals. But the true asset showcased by the track is frontwoman/drummer Rebecca Taylor's voice, a powerful yet subtle instrument that could co-exist comfortably with the immortal greats—Petula, Sandie, Dusty.
24. "Sing" by Ed Sheeran
Based around a naggingly repetitive loop that Ed worked up with Pharrell Williams, "Sing" was the moment he dropped the reflective balladeering and took a bold step towards the dancefloor. It's the story of a late night liaison, in which a friendly girl gives Ed some unexpected booze and a smooch in the middle of what sounds like a colossal rave-up, orchestrated by a shouty man.
23. "Moaning Lisa Smile" by Wolf Alice
2014 was a year in which the sound of the post-grunge years of early '90s indie rock—everyone from the Lemonheads to the Breeders to Bikini Kill—was revisited with some force. Wolf Alice were not above this trend (in much the same way that your knees are not above your eyes), creating slow-burning anthems of unease with snarky lyrics, and releasing them on EPs, just like they did in the olden days.
22. "Zombie" by Jamie T
Jamie is the lost poet laureate of British indie, whose return this year was greeted like the return of a dear old friend from a long and sometimes harrowing trip around the world. "Zombie" distils the reasons for that affection in one hit, being a sharply-worded and sophisticated pop song delivered from the streets by a man with frogspawn in his throat.
21. "I Have Been a Fire" by Luke Sital-Singh
The singer-songwriter field is one that is saturated up to the ankles right now. Soft and vulnerable feelings are being exposed at such a dramatic rate that it is sometimes hard to know which way to look. Luke's mournful confession—a rollercoaster ride of whispered remorse and bellowed anguish—will not make this situation any better, but may make regretful moments a little easier to bear.
20. "bumblebeee" by Kasabian
To hell with subtlety. Kasabian's album cover dispensed with such unnecessary clutter as song titles, an album title, photos or non-monochromatic colors that are not neon pink. And you can hear this approach in the steroidal rush of "bumblebeee" which is essentially the sound of a giant fluorescent helium balloon being shot out of the sky with a sarcastic howitzer.
19. "New York Morning" by Elbow
Guy Garvey's love letter to the Big Apple can already be declared near the top of the crowded NYC song canon. (Perhaps it takes an expat outsider to truly appreciate the neurotic beauty of this often infuriating town.) "Oh my God New York can talk," he sings, "Somewhere in all that talk is all the answers." Even if one doesn't fully believe the picturesque vision of the city he puts forth, he sure as hell makes you believe it for five minutes.
18. "Hostiles" by Damon Albarn
https://www.youtube.com/watch?v=ij5yRxvfnQY
Only Mr. Albarn could make a song so despairing—reportedly he wrote it after playing violent video games with his daughter and lamenting the thoughtless body count—sound as effortless and airy as a lullaby.
17. "I Will Never Let You Down" by Rita Ora
Despite her proximity to the Jay-Z/Beyoncé empire, Rita has been denied her own U.S. reign. Perhaps Americans have a resistance to British pop interlopers these days, preferring our U.K. imports more soulful, but this should have been the song that made her a force on the western side of the pond. From its sunny guitar intro through to its wall-of-synths chorus, this is the kind of pop Lily Allen wishes she still made.
16. "Magic" by Coldplay
It's still fashionable to hate on Coldplay, but every now and then, they release a single that is undeniable. Featuring Chris Martin putting across his best pillow-talk, the stunning "Magic" owes a lot to Sade's low-simmer R&B, only boiling up to U2-style melodrama near the end. But, here, the towering climax feels earned.
15. "Steal My Girl" by One Direction
In which the biggest pop band in the world stop pilfering bits from classic old rock songs of the '70s and absorb the heft and weight of '80s stadium rock, and find that it suits them rather well. "Steal My Girl" hits like a lost classic from Journey or Toto—drums like cannons, piano like the judgement of the Lord above—with a "na na" vocal refrain that has been purpose built to wreck the eardrums of every parental chaperone at the 1D concert.
14. "13 Little Dolls" by Sophie Ellis-Bextor
Sophie's album "Wanderlust" is one of the gems of the year. Written with the acclaimed songwriter Ed Harcourt, it is an inspired collection of mature pop songs, recorded with interesting arrangements that replace her trademark synthpop with baroque harmonies, folk instruments and guitars of various electricities. This is the most manic moment, and a reminder that Sophie can be a terrifying (and witchy) scold when she wants to.
13. "Footsteps" by Eagulls
While it is impossible to ignore the influence of post-punk giants like Joy Division and Killing Joke in the sound of Eagulls, the furious howl of singer George Mitchell lifts them out of the copycat club and right up into your face. Should you have ever wondered what it would be like to be roundly chastised by an angry hurricane at the bottom of a well, now you know.
12. "Marshall Law" by Kate Tempest
Just a note for future reference, should you ever find yourself among a gang of super-confident showbiz types at a party while a strawberry blonde glares at you from a dark corner; you do NOT want to get on the wrong side of Kate Tempest. You'll find yourself the subject of one of her epic slamdowns before you can say "but I don't even KNOW these guys!"
11. "Love Letters" by Metronomy
After the vinegary synthpop of 2011's The English Riviera, Metronomy's comeback single was quite the revelation; nothing less than a Motown stomper as if played on equipment borrowed from the Stranglers in 1978. And delivered by a band that has clearly discovered the dubious joys of the coordinated blazer and turtleneck uniform.
10. "Upright Downtown" by La Roux
Elly Jackson is clearly a massive Bowie fan, not just in the glowing orange locks and general sense of poise and theatricality. She also gently purloined the bouncy feel of his "Sound and Vision" to create this standout moment from Trouble in Paradise, a hugely enjoyable album of arresting and funky electropop.
9. "So Now You Know" by The Horrors
Once all windswept moptops, skinny jeans, and goth 'tude, The Horrors couldn't be further from their dubious beginnings as an apparent novelty band. ("She Is the New Thing" was fun, but…) Over the course of several albums, they've proven they have tricks up their sleeves, and they reached their peak this year with this fists-aloft single with an irresistible hook.
8. "Two Weeks" by FKA twigs

FKA Twigs – Two Weeks (Clean Version) on MUZU.TV.
Just so you know, the FKA stands for "formerly known as" and the twigs is a reference to Tahliah Barnett's previous nickname during her life as a model with skinny limbs. Not that these facts form any kind of noticeable influence on her dreamily deconstructed R&B. Amid the sumptuous harmonies and pillow-soft cooing are hard sentiments, emotional turbulence and bitter recriminations, so her slow jams play out like the interior monologue of a serial love rat.
7. "Crying For No Reason" by Katy B
Someone good with words needs to coin the right snappy phrase that encapsulates dance music that is also emotionally literate and capable of causing spontaneous tears even while there are arms are in the air and flashing lights all around. Like Robyn's "Dancing on My Own," for example. If there was such a genre, and we could find the right name for it, Katy would be its queen B.
6. "The Take Off and Landing of Everything" by Elbow
This is the title track of Elbow's sixth album, and a song that seems to pick up almost exactly where the final fadeout of "I am the Resurrection" by the Stone Roses finishes. It's not the song that delivers the greatest emotional punch, or the most languid and swoony, but it's another of those wonderful moments where Guy Garvey and his unmerry men lift you bodily out of your chair, show you the world and all the wonders within, and then gently insist that you get out there and partake, starting with this pint they just bought you.
5. "Miserable Strangers" by King Creosote
In a year in which Scottish independence was a very real possibility, Kenny Anderson (recording under the moniker King Creosote) released From Scotland with Love, a soundtrack album to a documentary film illuminating Scotland's rich legacy. It's an amazing, must-own collection, and "Miserable Strangers," a most empathetic tribute to itinerant, homeless Scots, is the tearjerking highlight. The reprise, pilfered from Anderson's own song "678," features warm harmonies that loop back onto each other like Scottish waves crashing.
4. "Gooey" by Glass Animals
All this talk of "icky gooey wombs," "pooh bears," and "peanut butter vibes" could easily come across as drunken nonsense or perhaps a fever-dream after watching too much Rachael Ray. The Oxford-based band makes gibberish and food porn more ridiculously alluring than it ought to be.
3. "Budapest" by George Ezra
There's a college thesis to be written about British singer-songwriters who insist on singing in a strangely strangulated way to give the suggestion that they have soul. But who would want to read it when there are songs as delightful as this to relax into instead? "Budapest" is an exercise in poise; just the right tinkly keyboard refrain, the perfect chuntering guitar at the right moment, subtle handclaps that come and go only when absolutely required, and that honey-on-sandpaper voice delivering opaque lyrics that hint at a story without ever fully explaining just how George found himself miles from Budapest in the first place.
2. "23 Floors Up" by Teleman
The theme of hotel room solitude is well-trodden territory for touring musicians. What separates this from, say, Sarah McLachlan's "Angel" is the vividness and ambiguity of the lyrics, which paint a disturbing picture of loneliness and perhaps something a bit darker. And as to provide further proof of the shadow Bowie casts on modern-day music, when lead singer Thomas Sanders sings "I'm leaving you behind" upon a bed of swirling synths, it evokes none other than Major Tom bidding his adieu in "Space Oddity." A beautiful, transcendent tune.
1. "Mecca" by Wild Beasts
Wild Beasts's fourth full-length Present Tense is one of 2014's master works, with song after brilliant song exploring relationships with a refreshing sincerity. Let's be real: between "Sweetest Spot," "Wanderlust," "Daughters," "A Simple Beautiful Truth," "Palace," and this song, this Kendal-based four-piece could have dominated our greatest songs list this year. But we elected to spread the wealth, giving you the opportunity, in earnest, to simply own Present Tense yourself; it's absolutely essential.
Still, it's the sensual "Mecca" that's the most accessible and the most rewarding, conveying such a palpable sense of nakedness in Hayden Thorpe's lushly feminine delivery that it almost amounts to aural voyeurism. The synths caress; the percussion clamors; the lyrics are erotically charged ("Surrender your limbs to my every whim/Now we're lovers, we are cartwheelin'"). Yet "Mecca" isn't quite about lust, but about some higher carnal knowledge, comparing sexual union to a religious pilgrimage (hence the title). It's the most mature and genuinely sexy baby-making single of the year.
Here's the Spotify playlist (minus FKA twigs' 'Two Weeks," which only has an explicit version available):
See more:
20 Greatest British Songs of 2013
The Brit List: 10 Greatest British Songs of 2012
10 British Holiday Songs Every American Should Know
Five Great British Songs That Offer Romantic Advice
Read More
Filed Under: