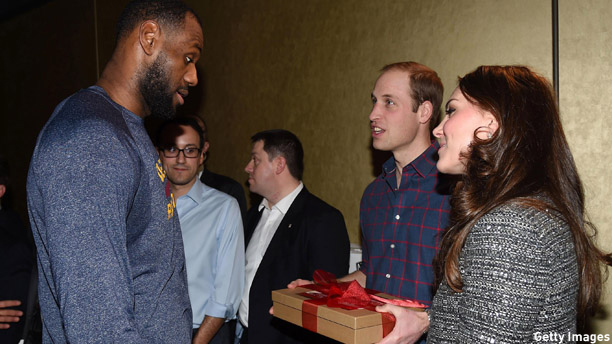 Well, what a year for Ameri-Brit relations. Despite a few hiccups in the "special relationship" (see August in the list below), the U.S. and the U.K. loved it up and even swapped a few words. Americans, it appears, have adopted the British words "gobsmacked" and "dodgy", while Brits had a shopping list of Americanisms about which to grumble.
January – Rocky Mountain ski resorts experienced a marked increase in European visitors after the sale of recreational marijuana was legalized on January 1. Stoners on the slopes should note however, that Breckenridge Ski Resort officials blew up Leo's Smoke Shack, a log cabin that was being used to sneak a few tokes between runs. They're onto you.
February – Sochi, Russia, hosted the Winter Olympics, whose motto was "Hot.Cool.Yours.", (no spaces between the words, btw.) Apparently its meaning may have been lost in translation. The U.S. sent the most athletes at 230, while the U.K. managed 56. Out of 26 teams, the U.S. placed fourth, and the U.K. came nineteenth. Bless!
March – The world braced itself for the One Direction "Where We Are" tour. (A geographical pun is very tempting here, but I will resist.) They kicked off in South America before heading back to the U.K., then faffed around in Europe before finally bestowing their lovely presences on the U.S. For young American girls, it's not so much Prince Harry as Harry Styles these days.
April – (The 23rd, actually) saw the 450th birthday of The Bard, a.k.a. William Shakespeare. Among a veritable plethora of events, The Globe held a free family fun day in celebration, and the RSC (Royal Shakespeare Company) hosted a firework display. Impulsively, Brits signed a collective pledge not to make fun of Americans performing Shakespeare in American accents.
May – The 59th Annual Eurovision Song Contest was held in Copenhagen, Denmark. Americans, for the most part, remain blissfully unaware of this camp, over-the-top Pan-European competition. This year's winner was Austrian drag artist Conchita Wurst (real name Tom Neuwirth), singing "Rise like a Phoenix". And if anyone's in any doubt of Eurovision's some-would-say "questionable" popularity, the 2015 event sold out in twenty minutes.
June – While the American team made it to the knockout round, the FIFA World Cup was not the U.K.'s finest hour. Although England qualified, we saw the team's worst performance in decades. To add injury to insult, Gary Lewin was stretchered off the pitch with a dislocated ankle, suffered when celebrating England's only goal against Italy. And we didn't even win. As Del Boy might say, "What a Plonker."
July – Her Royal Majesty, Queen Elizabeth II … wait for it … photobombed an Australian hockey player's selfie at the Commonwealth games in Glasgow. Needless to say, the Tweet containing the photo went viral. Not to be outdone by Granny, Princes William and Harry also joined in the photobombng fun later in the Games.
August – The "special relationship" was tested by culinary gaffes on both sides of the Pond. First, the British embassy in D.C. tweeted a photo of a cake shaped like the White House surrounded by sparklers and captioned: "Commemorating the 200th anniversary of burning the White House. Only sparklers this time!" Yikes! Then, the U.S. ambassador in London complained, "There are limits and I have reached them," in reference to the beloved British dish of lamb and potatoes. Fortunately, breaking news of George Clooney's engagement to a Brit served as a handy distraction.
September – Scotland voted "No" to independence. While this issue was huge in the U.K., most Americans were either unaware of it or were keeping schtum in case Texas got any ideas. Receiving much more U.S. coverage was the announcement that the Duchess of Cambridge was pregnant with baby number two. According to a Huffington Post poll however, the media coverage did not reflect the "Meh" response of most Americans.
October – Brits continued to embrace Halloween, American-style, while complaining that it is now eclipsing the beloved Bonfire Night (November 5th). According to the Smithsonian magazine forty five percent of Brits thought Halloween "an unwelcome American cultural import," which immediately suggests that fifty five percent were out trick-or-treating.
November – Despite not having Thanksgiving from which to recover, Brits also continued to embrace the Black Friday shopping mania. 2014 however, saw unfortunate incidents of appalling shopping etiquette causing Manchester police to Tweet, "At least two people arrested at #BlackFriday sales events already this morning. Keep calm people!" – answering the question "Do Brits really say "Keep Calm"?
December – Saw a whirlwind visit to New York by the Duke and Duchess of Cambridge. They mixed with two forms of American royalty during their three-day trip, hanging courtside with Jay-Z and Beyoncé at a Nets-Cavaliers basketball game, and then with Hillary and Chelsea Clinton at a formal dinner. Hillary reportedly shared parenting secrets with the Duchess – lots of singing; at least until your child (Chelsea) is old enough to tell you "No more." Sigh – we've all been there.
Here's to 2015.
Read More
Filed Under: