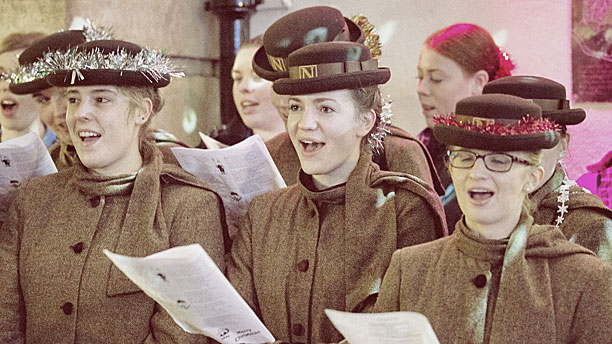 We've already named the three key songs without which no British Christmas would be complete, and our sister site Mind The Gap has compiled a list of songs that will remind every British ex-pat of home, simply because they are currently blasting out of every shop doorway and will continue to do so until Boxing Day at the earliest.
But that's only half the story when it comes to festive music. There are songs that go back hundreds of years, that depict traditions that are no longer fully in operation, like "The Wassailing Song." And there are other, similarly vintage British songs that are as much a part of the global Christmas as Santa himself, like "The Holly and the Ivy" or "Good King Wenceslas."
There are also more recent Christmas song that didn't quite make the ubiquity list but deserve consideration as part of another tradition: trying to get a Christmas song into the charts that will pay your festive pension for ever more.
Here's a mix, starting with the most brazen example of the latter:
"Christmas Time (Don't Let the Bells End)" by the Darkness
The Darkness managed to keep up two fine British traditions at once here. There's the rowdy, boozy Christmas singalong of the sort Slade specialized in, and general rampant innuendo (in this case around the term "bell-end," which is a distinctly unseasonal penis reference). And, of course, it all ends with sleigh bells and a children's choir, because they're the bloody Darkness, not Coldplay, OK?
"Sans Day Carol"
This isn't a song about a missing day; in this case sans is interchangeable with saint, as the song was transcribed from a sung version by Thomas Beard in St. Day, Cornwall. It's the St. Day carol, and it has a similar theme to The Holly and the Ivy, but the tune is a more jaunty affair, with one of those brilliant stop-and-repeat sections that suit a pub singalong so very well.
"Christmas Lights" by Coldplay
Every modern day's indie-type band wants to make a song that will join the big list of Christmas crackers (pun intended) and this is Coldplay's. It's exactly what you would expect Coldplay's Christmas song to sound like—all soft and warm like a festive sweater—and this is its greatest asset and (for detractors, at least) its biggest flaw. Not that you can ever really go wrong with a mopey Christmas song, of course.
"Adam Lay Ybounden"
"Adam Lay Ybounden" is a 15th century Middle English text, which has been set to music by several composers over the years, including the impressively (albeit unfestively) named Peter Warlock. The above version is by English composer Boris Ord and sung by the choir of King's College, Cambridge.
"December Will Be Magic Again" by Kate Bush
Not one of Kate's best-known songs, by any means. In fact, this was a one-off single that she recorded in 1979 and only released a year later. It's too twisty and unnerving to be reassuring, too fractured lyrically to be a complete picture of a magical Christmas as you or I may have experienced it, but if you listen carefully, everything you'd want to be there is there. And Oscar Wilde too.
"Here We Come A-Wassailing"
This version by Kate Rusby is a more recent approximation of a Christmas and New Year's song that can be traced back to at least 1850. It's a song of celebration for the custom of "wassailing," which is just like normal sailing, except you're on foot. And, instead of tacking the mainbrace, you're going to from door to door wishing everyone good cheer as you go, hoping for a coin, a drink or even a pie, and to sup from the wassail bowl, containing spiced hot ale with fruit in it. So, not much like normal sailing after all.
"I Was Born on Christmas Day" by Saint Etienne
Bob Stanley of Saint Etienne genuinely was born on Christmas Day, 1964. That's the same Christmas that "I'm Gonna Spend My Christmas with a Dalek" by the Go-Gos came out. This fact is not, strictly speaking, relevant, especially not to this song, which came out in 1993, features Tim Burgess of the Charlatans (UK) on joint lead vocals and does not mention Doctor Who even once.
"See, Amid the Winter's Snow"
Another oldie from the middle years of the 19th century, "See, Amid The Winter's Snow" is also known as "Hymn For Christmas Day" and boasts a lyric written by Edward Caswall, and music composed by Sir John Goss. This version, by Annie Lennox, is taken from her 2010 CD A Christmas Cornucopia, which also features other notable vintage festive hits as "Angels from the Realms of Glory," "God Rest Ye Merry Gentlemen," "Lullay Lullay (The Coventry Carol)" and "In the Bleak Midwinter."
"2000 Miles" by the Pretenders
https://www.youtube.com/watch?v=CEgTj8UAuu8
This is such a firm staple of British Christmas that it comes as a surprise to discover it was never released as an A-side in the U.S. at all. It was on the flip side (back when there was such a thing as a flip side) to "Middle of the Road", which was the band's 1983 hit single and therefore never attained the status of deathless festive masterpiece that it so clearly deserves. "2000 Miles" was written as a tribute to the band's guitarist James Honeyman-Scott, who had died in 1982, and it does capture the longing felt for a lost comrade after a particularly biting winter.
And to end with something lively…
"Christmas Was Better in the '80s" by the Futureheads
An exercise in not just having cake (and Christmas cake at that), but eating it too. There is nothing here lyrically that you won't find in a zillion other festive songs about the joy of Christmases of the past; it's just this one has been gift-wrapped in sparky indie rock, tied up with a golden ribbon of lovely harmonies and adorned with a gift tag that gives you an electric shock if you touch it before December 25.
Listen to the songs in this post—at least the ones available in the U.S. Spotify collection—in the playlist below.
See more:
A Very British Christmas Part 1: Three Essential Songs
And Now, A Gallifreyan Christmas Carol
WATCH: The Doctor Faces Santa in the 'Doctor Who' Christmas Special
Brit Binge Watching: Christmas Classics You Can View Online
Read More
Filed Under: