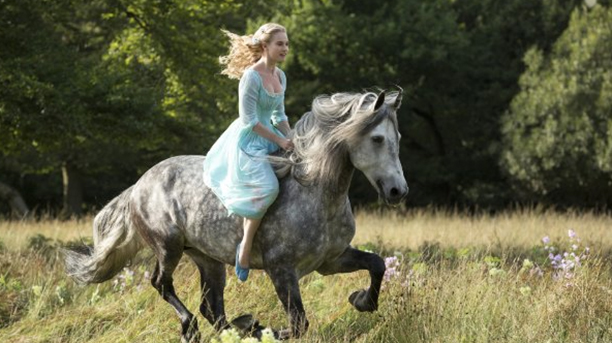 We meet a young Ella in Disney's just released trailer for Cinderella. Her mother leaves her with the sage advice, "Have courage and be kind," before passing.
Ella, played by Downton Abbey's Lily James, finds herself living with her new stepmother (Cate Blanchett) and two stepsisters after her father leaves for a journey. Ella is given the unfortunate nickname Cinderella because she's constantly covered in dirt from cleaning up after the lazy broad.
While things seem dire, Ella remembers her mother's words, and experiences a glint of hope when meeting a gracious stranger (Richard Madden) when out riding her horse in the woods.
Most of us know the story of Cinderella, her Fairy Godmother (Helena Bonham Carter), and the Royal Ball, but it never gets old. And, who better to create a live action remake of the classic story than Disney, who brought us the animated tale in 1950?
You can watch the trailer below:
Cinderella hits U.S. theaters on March 13, 2015.
What do you think of the first look?
See More:
Matt Smith and Lily James Set to Star in 'Pride and Prejudice and Zombies'
'Downton Abbey' News Roundup: Roles Are Stacking Up
'Game of Thrones' Star Richard Madden to Play Cinderella's Prince
Read More
Filed Under: