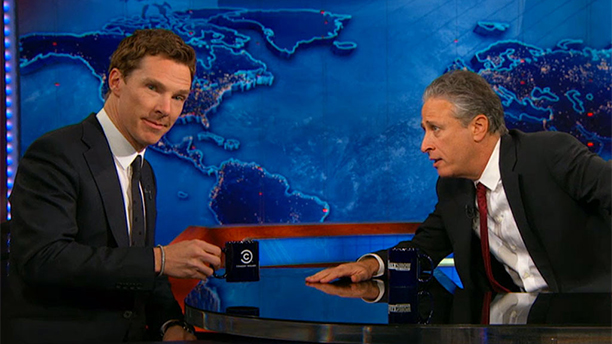 There must have been something in the air last night, because not just one, but two American TV show hosts got friendly with two of our Anglo regulars last night. To be more specific: Benedict Cumberbatch and Eddie Redmayne. The two are making the rounds, toting their new films, and Jon Stewart and Seth Meyers made things interesting.
Cumberbatch swung by The Daily Show to chat with Stewart about his new film The Imitation Game. It didn't take long for things to go off topic, with Stewart saying, "You're the first guest, who I want to rip your clothes off, and sell on eBay. And I don't know why." He blames it on there being just "something about" the British star.
Cumberbatch being his appeasable self, replies, "Maybe we could arrange something."
If you think Stewart's above outburst is outrageous, just wait, because there's more, like the Kim Kardashian comparison in the below clip:
Moving on to other awkward moments in TV land. Redmayne, out and about promoting The Theory of Everything, made a pit stop at Late Night with Seth Meyers.
Meyers' flattery wasn't as in-your-face, but the British actor does shift in his seat when hearing about a comment made by Saturday Night Live costar Amy Poehler.
See how Redmayne took the praise in the below clip:
It's been said, more than once, Brits aren't huge fans of compliments.
Who handled it better?
See More:
WATCH: David Tennant Schools David Letterman on 'Doctor Who'
WATCH: Jimmy Fallon, Sir Paul McCartney Do an Accent Swap
Craig Ferguson Explains Why He's Leaving 'The Late Late Show'
Read More
Filed Under: