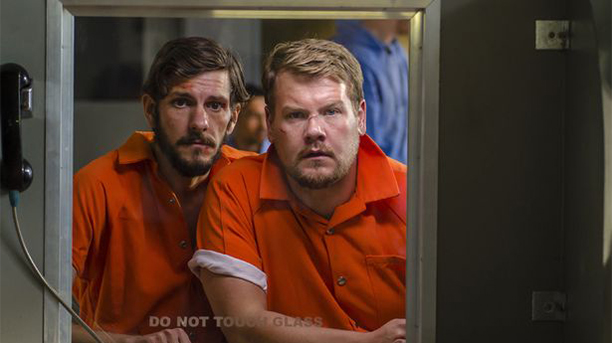 Co-creators James Corden and Mathew Baynton make their return in The Wrong Mans, co-produced by BBC and Hulu.com.
The two, who portray hapless office workers Phil (Corden) and Sam (Baynton), find themselves in the wrong place at the wrong time, with absolutely the wrong attitudes.
In the teaser trailer, we see the guys strutting the halls of a U.S. prison, decked out in orange onesies, and Phil is wondering out loud how to hook up to Wi-Fi to do some Christmas shopping:
If you missed the first season, co-written by Corden and Baynton, you can catch up on Hulu.com here.
We had the chance to sit down with Baynton before the series premiered, and here are 10 things so right about The Wrong Mans.
The second season is scheduled to premiere in the U.S. on December 24.
What did you think of the first look? 
See More:
Tony Winner James Corden to Star in Hulu Comedy, 'The Wrong Mans'
10 Things So Right About 'The Wrong Mans': Interview with Co-Creator Mathew Baynton and Director Jim Field Smith
WATCH: What Happens When 'Doctor Who' Stars Visit 'Graham Norton'?
Read More
Filed Under: